New Look pulls out of Russia citing 'political uncertainty'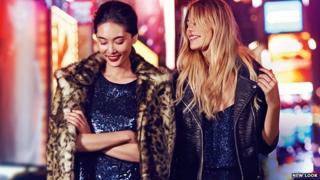 High Street fashion chain New Look has pulled out of both Russia and Ukraine citing "political uncertainty".
The group, which had 20 stores in Russia and six in Ukraine, had previously selected Russia, alongside Germany, China and Poland as a key priority for expansion.
It announced the decision as it reported an 89% rise in first half profit to £26.1m.
New Look had run its stores in Russia via a franchise model.
It had previously planned to buy out its franchise partner and move to a joint venture with a new partner to accelerate expansion in the country.
Despite the decision, New Look said its international expansion plans were otherwise progressing well.
It now has 14 stores in China, and said it was on track to have 20 there by the end of the year.
In the UK, it said sales had risen 8% in the 26 weeks to 27 September, despite the "adverse second quarter weather impact".
Several retailers, including Next and Marks & Spencer, have recently blamed lower-than-expected sales on the unusually warm September and October .
However, New Look said it had managed to maintain "gross margin" - the difference between the price at which it buys and sells clothes - "in spite of constrained full price sales of [the] Autumn/Winter range in September".
New Look chief executive Anders Kristiansen said he was "pleased" with the results.
"Our continued focus on international expansion will help us to reduce our exposure to the UK weather in the longer term," he added.
The group said it was "cautious" about the outlook for the rest of the year, but said it was "well set up" for the key Christmas trading period.
The chain, whose first shop opened in Taunton in 1969, now has over 1,100 stores worldwide.