Aldi aiming to create 35,000 jobs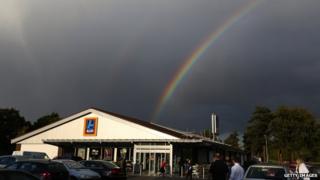 Aldi plans to create 35,000 new jobs in Britain as it almost doubles the total number of stores over the next eight years.
The discount supermarket aims to have 1,000 stores by 2022 and will open 54 this year and 60 to 65 next year.
The details were announced during a visit by David Cameron to Aldi's UK headquarters in Warwickshire on Monday.
However, an analyst cast doubt on the total number of jobs that would be created.
Aldi confirmed plans, first announced in September, to invest £600m as it expanded operations in Britain.
Earlier this year the retailer said it aimed to reach the 1,000 stores milestone by 2021.
Nick Bubb, a retail analyst, said that the 35,000 figure depended on an ambitious store opening programme that may not be realised. He added: "These are low-paid 'jobs' and some of them will come from Aldi putting other small stores out of business."
Aldi said the new jobs will include a range of management roles, both in-store and within Aldi's offices, as well as shop floor and distribution centre positions.
Along with its fellow German counterpart Lidl, the chain has been putting the "big four" supermarket chains under pressure with lower prices that have proved popular with consumers.
Aldi has a 4.8% share of the UK grocery market, according to Kantar Worldpanel - higher than Lidl's 3.5% and closing in on Waitrose's 5.1% share.
By comparison, Tesco has a 28.8% share and Asda is second with 17.4% for the 12 weeks to September.
Roman Heini, group managing director of Aldi UK, said the company was also buying more locally produced products and expanding its fresh food range. "This approach is helping us to grow our market share and driving our investment in the UK," he said.
Its UK pre-tax profits rose 65% to £260.9m for the 12 months to 31 December, 2013 on a 35% increase in turnover to £5.27bn.
Aldi has more than 7,000 stores across three continents.