Carlsberg profit hurt by fall in the Russian rouble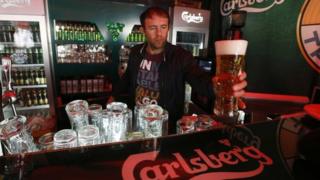 Carlsberg has reported a drop in third quarter profit after a fall in the Russian rouble hit its performance.
The Danish brewer reported a net profit of 2.1bn kroner (£222m; $353m) in the three months to the end of September, down 4.8% from a year ago.
Russian revenues fell 15%, but Carlsberg said this was mostly due to currency effects and that underlying growth was flat.
Carlsberg makes nearly a quarter of its sales in Russia.
The rouble lost 7% against the euro in the quarter, and has lost more than a quarter of its value since the start of 2014.
Western sanctions over the conflict in Ukraine have played a major part in the currency's decline, by making Russia an unattractive place to keep funds.
"The man on the street (in Russia) isn't very optimistic about the future, and we don't expect the climate to ease in the near term or in the early part of 2015," said Carlsberg chief executive Jorgen Buhl Rasmussen.
Despite the drop in revenues in the country, Carlsberg said it had continued to invest there and its Russian market share was 37.9% for the period.
This included sponsoring local football teams and TV advertising.
The weaker performance in Russia and Eastern Europe was partly offset by a strong performance in Asia, where revenues soared 61%.
Carlsberg's shares rose 2.7% following the trading update, which analysts said was better-than-expected.
"Carlsberg is delivering an acceptable result. Operationally, management has done well in difficult markets," Michael Friis Joergensen, an analyst at Alm Brand told the Danish paper Boersen.