Technology threatens third of UK jobs, study suggests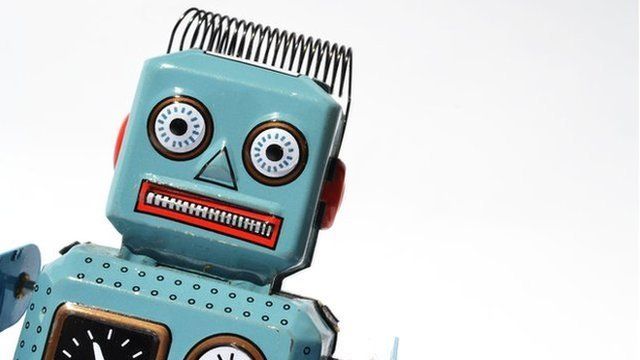 A third of British jobs could be replaced by machines within the next two decades, a study has suggested.
Repetitive processing, clerical and support service jobs are most at risk of being replaced, according to the study by the University of Oxford.
It found jobs paying under £30,000 a year, were nearly five times as likely to be replaced as £100,000 roles.
Deloitte, which commissioned the study, said the trends uncovered were already "well under way".
Analysis: Rory Cellan-Jones, Technology correspondent:
Ever since the industrial revolution and the arrival of the power loom there has been concern about the impact of new technology on jobs.
Up until recently many of those fears have proved exaggerated, but now the rapid advance of computer intelligence has made some economists believe that this time things could be different.
Notably, a book called The Second Machine Age warned that computers had already started to erode jobs across the service industries and would continue to do so, increasing inequality along the way.
Carl Frey and Michael Osborne, the academics behind today's report and a similar study of the US job market, have now put some numbers on this theory. They have examined the current and future capabilities of computers to perform tasks which we have assumed until now that only humans could do.
They have then looked in detail at 70 occupations to assess how likely each is to be "automatable" - and that is how the prediction that a third of UK jobs could be at risk has come about. It is important to stress that this will only happen if employers make the decision that these functions will be performed better and more cheaply by computers.
And we should not forget that new jobs - from fitness trainers to data scientists - are being created. But the big concern is that it is low paid jobs that are most at risk, and there is a danger that the march of the robots will be accompanied by a widening gulf between rich and poor.
Jobs such as library assistants and clerks, sales-related occupations, travel agents and secretaries had already decreased by more than 40% across the UK since 2001, the study said.
In their place have come a series of job titles that didn't even exist a decade ago, with zumba instructor, social media intern and data scientist among the fastest-growing job titles globally.
"Although the replacement of people by machines is well understood, the scale and scope of changes yet to come may not be," the report said.
The report also found that 40% of UK jobs - such as those in financial services, computing, engineering, the arts and media and healthcare - were at low or no risk.
It also highlighted the relative strength of the London market, where it found half of all jobs were at no, or low, risk of being replaced.
The researchers said this was because a large proportion of the workforce were already in highly skilled jobs which could not be easily replaced by technology.
Deloitte senior partner Angust Knowles-Cutler said the scale of the shift needed to be planned for.
"Unless these changes coming in the next two decades are fully understood and anticipated by businesses, policy makers and educators, there will be a risk of avoidable unemployment and under-employment," he said.
Related Internet Links
The BBC is not responsible for the content of external sites.