Detroit bankruptcy exit plan approved by US judge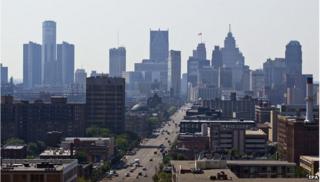 US judge Steven Rhodes has approved of Detroit's plan to exit from bankruptcy, 16 months after the city became the largest ever in the US to go broke.
The plan includes a 4.5% cut to the pension plans of general retirees, spending $1.7bn to demolish abandoned buildings and other measures to erase nearly $7bn of debt.
Judge Rhodes said he found the plan fair and reasonable.
The verdict was expected after most major creditors struck deals.
In announcing his approval, Judge Rhodes said that the plan, which limits cuts to city retirees, "borders on miraculous".
After Detroit initially filed for bankruptcy, many unions had staged protests demanding that any deal with the city's creditors spared pensions as much as possible.
End in sight
Detroit's population has dwindled down to 688,000 from 1.2 million in 1980.
A series of bad deals, corrupt mismanagement by previous mayors and unreasonable promises to pensioners exacerbated the city's debt woes, just as tax revenue from the shrinking population declined drastically.
That made Detroit's bankruptcy filing almost inevitable.
In order to appease creditors, the city has struck a variety of deals, including the demolition and redevelopment of the Joe Louis Arena, home to the Detroit Red Wings hockey team, which will move to a new stadium a few miles away.
But the plan spares the murals and other art work worth millions of dollars held by the Detroit Institute of Art, thanks to support and donations from the state of Illinois, foundations and private philanthropists.
Some creditors were demanding the works be sold.