German factory output rises less than expected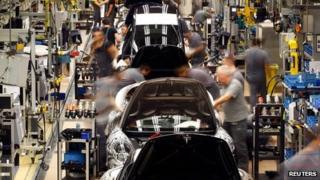 German industrial production rose less than expected in September, a sign that Europe's biggest economy is continuing to struggle.
Official data showed output rose by 1.4% last month, following a sharp 3.1% fall in August.
But the bounce back, smaller than the 2% rise many economists predicted, comes amid concerns about economic slowdown in the eurozone.
German manufacturing output rose 1.7%, but construction fell 1.2%.
There was better news on German exports, which jumped 5.5% on the month, after a 5.8% fall in August - the largest drop in more than five years.
Imports rose 5.4% after two consecutive months of decline.
On Thursday, the European Central Bank said it was poised to help bolster eurozone growth if necessary.
This week, the European Commission cut its growth forecast for the eurozone to just 0.8% for this year, down from a previous estimate of 1.2%.
Germany's economy started the year strongly, but has been slowing recently amid problems in France and Italy and subdued investment.
Some economists had speculated that the economy would contract in the third quarter, which would push Germany into a technical recession.