Canary Wharf owners reject Qatar bid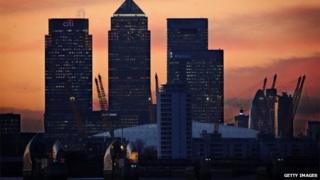 The owners of Canary Wharf, Songbird Estates, have rejected a joint takeover bid from the Qatar Investment Authority (QIA) and a US investor, Brookfield Property Partners.
Songbird's chairman, David Pritchard, said the offer of 295p a share "significantly undervalues" the firm.
QIA already owns 28.6% of Songbird, while Brookfield has a 22% stake in Canary Wharf Group.
Songbird shares rose to a six-year high on Thursday on news of the offer.
They closed up 22% at 320p a share.
"The proposal significantly undervalues Songbird and does not reflect the inherent value of the business and its underlying assets," said Mr Pritchard.
"The group has an exceptional management team with a clear vision to deliver additional shareholder value, including from our 11-million-sq-ft development pipeline, the largest in London," he continued.
James Carswell, real estate analyst at Peel Hunt, says he is not surprised that the offer was rejected, describing it as far too low.
"There's a real possibility that QIA and Brookfield could come back with another offer. In our view, it needs to be in the region of 350p a share to be accepted," he said.
Canary Wharf, which is 69% owned by Songbird, was established 25 years ago as the new financial district in London, and is home to some of the world's biggest banks.
In the UK, Qatar also owns Harrods, Chelsea Barracks, HSBC's headquarters and the Shard, Europe's tallest skyscraper.
QIA was founded in 2005 by the state of Qatar to help its economy by investing in a diverse array of businesses, outside of the country's huge oil and gas resources.