Tesla reports record deliveries as losses mount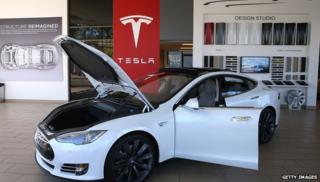 Tesla has reported a third-quarter loss of $74.7m (£46.8m) - more than double from the same period last year.
However, shares in the firm rose 5% in after hours trading, as investors welcomed the electric car maker's record deliveries.
Tesla said it delivered 7,785 Model S cars from July to September, up 41% from the same period last year.
However, it lowered its total sales forecast for 2014, saying it expected to sell a total of 33,000 cars.
The company said the widening losses were as a result of increased manufacturing and development expenses related to production of the Model S sedan.
Tesla said it plans to spend more to increase production at a California plant so that it can produce 2,000 vehicles a week in 2015.
However, Tesla said that it would delay the release of a crossover vehicle, the Model X, until autumn 2015 but did not provide a reason.