Osborne 'expects' fuel price drop after fall in oil price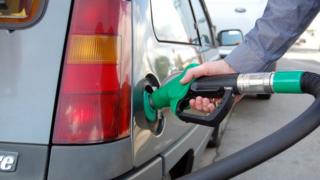 The Chancellor, George Osborne, has said the government will be watching petrol and diesel distributors "very carefully" to ensure they pass on oil price reductions to customers.
Oil has fallen from about $115 (£72) per barrel in June to about $84 per barrel, a decline of about a quarter.
In comparison, petrol prices in the UK have fallen from a high of about 131.7p per litre in the summer to 124.22p - a decline of about 6%.
Diesel dropped from 136.37p to 128.58p.
Campaigners argue that taxes account for the bulk of UK pump prices, and that the government therefore has more power to reduce prices than petrol companies.
According to analysis by the AA, out of the 124.22p average paid for a litre of petrol, about two-thirds is accounted for by a combination of Value Added Tax (VAT), at 20%, and fuel duty, at 57.95p.
Arthur Renshaw, an analyst at Experian, says that if VAT and fuel duty are stripped out, the underlying price of petrol has dropped by 21% since last year.
Additionally, because oil is traded in dollars, the weaker pound has reduced the effect of the drop in oil for UK consumers.
During the past few months, the pound has weakened against the dollar. Whereas a pound bought $1.7165 at its height in the summer, it now buys $1.598 - a drop of 6.9%
But the government says fuel companies must do their bit to reduce the price of petrol for consumers.
"Our message is clear - the oil price has fallen and we expect that to be passed on to people at the petrol station filling up their cars," said Mr Osborne.
"We expect the oil companies to do this and we will be watching very carefully to make sure they do."
'Like a feather'
Treasury minister Danny Alexander will use a speech in Aberdeen on Thursday to warn people would "rightly be angry" if they felt prices were not coming down as much as they should.
"I believe it's called the rocket and feather effect," he will say, in prepared remarks seen by the BBC for a speech to the Highlands & Islands Branch of The Energy Institute in Aberdeen.
"The public have a suspicion that when the price of oil rises, pump prices go up like a rocket. But when the price of oil falls, pump prices drift down like a feather."
While no research supports this, the thought of this effect creates ill feeling, he will say.
Speaking to the BBC, Mr Alexander also pointed out that the price of crude oil in pounds had fallen by "14% in the last six weeks alone," and this drop had not been passed on to drivers.
Labour's Chris Leslie, the shadow chief secretary to the Treasury, rebuffed Mr Alexander's comments, saying that while drivers ought to benefit from falling prices, "since 2011 people have paid 3p more on every litre of petrol because the Lib Dems broke their promise and backed the Tories in raising VAT".
In separate developments on Thursday, three major UK supermarkets said they would further reduce prices of petrol and diesel by as much as 1p per litre.
Asda, Sainsbury's and Tesco, who last reduced prices in September, all announced price cuts, with Asda dropping petrol to 119.7p a litre - the first time the price has fallen below 120p in four years.
The motoring organisations AA and the RAC welcomed the move.
However the group representing independent fuel retailers said the announcements would further endanger local petrol stations.
In order to see this content you need to have Javascript enabled. Visit BBC Webwise for full instructions.
Complete the fields and select Calculate to see how much more - or less - you are paying for fuel
To fill your tank you pay: