Sainsbury's and Netto open first of 15 new discount stores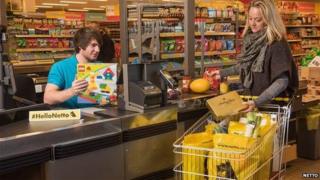 UK supermarket chain Sainsbury's is hoping to take on discount rivals Aldi and Lidl as it opens the first of 15 stores with Danish discount chain Netto, in Moor Allerton in Leeds.
If successful, the next stage of the joint venture will see the new format rolled out across the country.
The move is a return to the UK for Netto, which ended a 14-year presence here in 2010 when it sold up to Asda.
The UK discount sector is the grocery market's fastest expanding area.
It is currently worth an estimated £10bn in annual sales and is forecast to double in value to approximately £20bn in the next five years, according to analysts IGD.
Risk
Sainsbury's is one of the "big four" UK supermarkets alongside Asda, Tesco and Morrison's. All have been fighting to maintain market share in the face of increased competition from discount grocers and upmarket brands, such as Waitrose.
Sainsbury's customer base is largely in the south of England, where it is perceived as a middle-market supplier.
Some analysts have questioned the merits of the deal to Sainsbury as it could undercut its own ranges, although with the Netto stores based initially in the north of England where Sainsbury's is weak, the risk is reduced.
Andrew Stevens, retail analyst at Verdict, said Sainsbury's had less room to cut prices than rivals Tesco and Morrisons: "Sainsbury's shoppers are traditionally happy to pay a little bit more money for better quality food, it is hard for [Sainsbury's] to lower their prices and sacrifice the margins or to cut the quality. Teaming up with Netto is a good move."
Both Netto and Sainsbury's are investing £12.5m in the venture, and are expecting to make a loss of £5m to £10m up to 31 March 2015.
Lego
The stores will stock more than 2,000 products especially created for UK customers, as well as best-selling branded goods such as Heinz beans.
They are also likely to have a Danish flavour, offering certain of the country's signature products, including Lego, as well as Danish pastries from in-house bakeries.
It will also echo Lidl's popular trick of selling one-off lines that are typically only expected to be available for a week.
Morten Moberg Nielsen, head of Netto UK, said: "We think everyone should be able to buy nice things, in a nice shop, at a nice price."