M&S shares rise despite sharp drop in clothing sales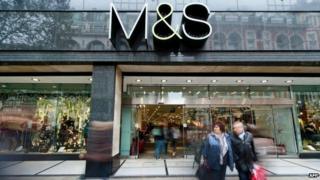 Marks and Spencer shares have risen nearly 10% despite it reporting its 13th consecutive quarterly drop in clothing sales, which it blamed on "unseasonal conditions in September".
The 130-year old retailer said like-for-like general merchandise sales - which are primarily clothing - fell 4% in the second quarter.
Nonetheless, M&S boss Marc Bolland said he was "pleased" with its progress.
Some analysts said the update suggested the start of a turnaround for the firm.
"Beneath the surface some faint glimmers of hope are beginning to shine through as the company's strategy starts to deliver," said Conlumino managing director Neil Saunders.
Analysts also pointed to the pick up in a closely-watched City measure - the margin at which M&S sells its clothing - which improved by more than expected, and the increase in the dividend, for the sharp share price rise.
The stock closed up 9.7% at 444.1p.
Profit beat
Overall, its performance was better than analysts had forecast. Half-year pre-tax profit fell 0.4% to £279.4m, but underlying profits rose 2.3% to £267.6m which was ahead of expectations.
Online sales at its revamped website, which was re-launched in February, were down 4.6% in the second quarter, but this was an improvement on the 8.1% drop it reported in the previous quarter.
And M&S said sales of womenswear also continued to improve. It did not give a quarterly performance, but said total sales were up 1.3% in the first five months of the year.
In food, like-for-like sales rose 0.2% in the second quarter, much weaker than the first quarter, but in line with analyst forecasts.
Across the M&S group, like-for-like sales fell 0.2% in the three months to 27 September, but were up 1% for the half-year.
Analysis: Kamal Ahmed, BBC business editor:
The City is likely to welcome Marks and Spencer's results - gross margins are up, profit before tax is up (for the first time in four years), cash generation is up and dividends are up.
But the overall story is still one familiar to all those who have been watching M&S for any length of time - food doing well but overall general merchandising - including vital clothing - down.
The retailer does appear better positioned to gain when real incomes start rising, with up-market store refits. There has been some improvement in womenswear sales.
One big worry will be the performance of the website where sales are still down over 6%, although M&S insists it is turning around rapidly. It will need to, Christmas is just around the corner.
'Style is back'
Despite the positive investor reaction, many analysts said they were concerned about the continuing fall in clothing and homeware sales.
Barclays analyst Christodoulos Chaviaras reiterated his "negative rating" on the shares, suggesting investors should not buy them.
"The magnitude of the decline [in general merchandise sales] means we doubt the weather is entirely to blame. Our longer-term negative view on M&S is driven by continuing market share losses in general merchandise, which we do not see abating anytime soon," he added.
Phil Dorrell, director of the retail consultancy Retail Remedy, said: "no amount of hand-wringing about September's unseasonal weather can explain away such weak clothing sales".
"The brand is finally introducing more clarity to its over-complex clothing lines, but look beyond the flagship stores and many are still a mess of baffling sub-brands, and feel like museums where older people go to browse endless rows of black slacks," he added.
However, Mr Bolland told the BBC's Today programme that he was encouraged by the improvement in womenswear.
"The trend is positive. Customers are telling us the style is back at M&S," he said.
Mr Bolland said people should disregard September due to the warm weather, and said without that month womenswear sales had risen.
However, he said market conditions continued to be challenging.
"As a result we remain cautious about the outlook for the remainder of the year," he added.
'John Lewis lite'
M&S is not the only retailer to blame the unusually warm September for affecting trade.
Clothing retailers H&M and Next have both said that the weather has hit sales.
The retailer, which has come to the end of its three-year programme aimed at modernising the business, on Monday unveiled its new look store at Westfield shopping centre in west London.
BBC business editor Kamal Ahmed said the store's appearance suggested M&S wanted to be a "John Lewis lite", that is John Lewis at mid-market prices.
"The problem is, the new M&S will only be wholly available in 70 of M&S's flagship stores. The rest of the 350 store estate will show 'elements' of the new look but they are simply not large enough to handle the full makeover," he added.