The truth about welfare spending: Facts or propaganda?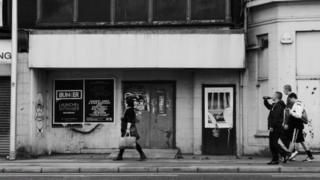 Forget the number of shopping days till Christmas. We are now just six months away from a general election.
Party strategists are already reviewing their tool-kits: opinion polls, focus groups, ministerial visits, or celebrity endorsements perhaps.
But for credibility, nothing beats statistics. It's hard to argue with them.
However, in one of the first salvos of the campaign, the Treasury has released a set of figures on welfare spending which are proving controversial.
The figures are being sent to all 24 million people in the UK who pay income tax, telling them exactly where their money goes.
Taxpayers will therefore learn that very nearly 25% of their bill goes on welfare spending alone.
Critics
But the TUC has already dismissed this as "party political propaganda masquerading as neutral information".
It said the figures were designed to soften up the electorate for further spending cuts, and by implication, boost the Tory vote.
So is the Treasury feeding us established facts, or a manicured form of fiction?
The Treasury's pie chart shows that welfare spending accounts for 24.5% of all public spending.
But on closer examination, the welfare section includes pensions paid to nurses, doctors, police officers and fire crew. Many might think this is not really "welfare" spending.
Indeed the Institute for Fiscal Studies (IFS) suggests a nurse's pension might be better categorised under health spending - like that same nurse's salary.
But the Treasury argues that it is using categories that are recognised by the United Nations, and which conform to global standards.
The categories are based on Public Expenditure Statistical Analyses (PESAs), which the Treasury has been using for years.
And yet in sending out the information to taxpayers, the Treasury did make one departure from normal practice.
Under PESAs, the state pension is normally included with welfare payments. But the Treasury decided to split out the state pension, and show it as a separate cost.
Its reasoning? The state pension represents 12% of all public expenditure, and therefore it says a separate category improves transparency for taxpayers.
But of course had it not split out the state pension, welfare would have appeared to represent an even larger proportion of public spending.
That should attenuate some of the noise coming from the Treasury's critics at least.
Alternatives
But the IFS is not entirely happy with the way the Treasury has presented the facts.
It suggests that taxpayers should be told how the welfare slice of the pie breaks down, but under different headings from the PESA categories used by the government.
"Lumping a quarter of total spending into one bucket labelled "welfare" may not strike the most helpful balance," it said.
"Especially when it includes such diverse items as spending on social care, public service pensions, disability benefits, child benefit and unemployment benefits," it declared in a research note called What is Welfare Spending?
So instead of the PESA categories, it suggests welfare spending is broken down as follows.
Public service pensions - paid to teachers, police officers, nurses etc
Other pensions spending - excluding pensions themselves, but including pension credit, winter fuel allowance etc
Personal social services - long-term care for the elderly, sick and disabled.
Working age benefits - including social security payments, tax credits, housing benefits etc.
Using these categories might also allay some voter's suspicions that too much is spent on those who are out of work.
They would show that just 14% of public spending goes on benefits for those of working age, and that includes benefits paid to those who are working, like child benefit or working tax credit.
But perhaps it would be even clearer to taxpayers - and more accurate - if the state pension was included in welfare spending, as the PESA system suggests it should be.
On the other hand, the IFS also suggests that personal social services should be excluded, as should pensions paid to public sector workers like doctors, judges and police officers. In the pie chart above, the cost of personal social services has therefore been re-categorised into health.
If these guidelines were accepted, the IFS says welfare spending could be measured under four quite different categories.
Benefits aimed at families with children
Benefits aimed at sick and disabled people
Benefits aimed at the unemployed and those on low incomes
Benefits aimed at older people
However this method would show that welfare spending actually amounts to more than 30% of government spending, not the 24.5% as stated by the Treasury.
'Like dreams'
But the size of the welfare state might be even larger than that.
In its Welfare Trends report, the Office for Budget Responsibility (OBR) suggests that health, long-term care, education and social housing are all part of the scope of the welfare state, and therefore might be included in any reckoning of the total welfare bill.
Add in social security spending and tax credits, and the OBR estimates that spending on welfare actually amounts to £410bn a year, or no less than 57% of all public spending.
All of which would merely show that there are many different ways to slice up a cake - especially given the fact that the election is less than 150 canvassing days away.
As the French philosopher Jean Baudrillard once observed: "Like dreams, statistics are a form of wish fulfilment."