The 'infosphere': Where philosophy meets technology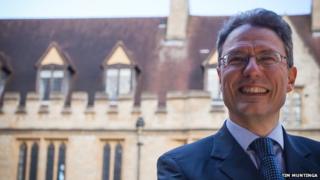 Luciano Floridi is an Oxford University academic with an intriguing title: professor of philosophy and ethics of information. He works at the Oxford Internet Institute.
Prof Floridi has just written a book which takes a wide view of the great connectivity disruption of our times.
It is one of an interesting new handful of thoughtful volumes about technology which are a welcome distraction from that torrent of how-to-do-technology business books that have dominated publishers' output until recently.
Prof Floridi's book is called "The 4th Revolution: How the Infosphere is Reshaping Human Reality". It is noteworthy because of the way he widens the high-tech horizon.
He applies big and perhaps timeless thoughts to something that is often merely talked about as baffling change.
Something really important is happening - he says - to who we are and how we relate to each other, and the environment we inhabit.
This sort of profound change does not happen very often. Prof Floridi attempts to put it into a long perspective.
Plummeting prices
Early on in the book, there is an eye-catching diagram taken from the Hamilton Project at the Brookings Institution, a US think tank. It demonstrates how dramatically the cost of computing power has fallen over the past 70 years.
The Hamilton Project graph uses the standard measurement of computer performance: Mips, millions of instructions per second. The 2010 iPad2 (now outdated, of course) worked at 1,600 Mips.
The same computer power in the 1950s would have cost $100tn (£63tn) if it had been possible to yoke together a sufficient number of Univac or IBM mainframe machines. The 2010 cost of an iPad2? Roughly $600.
This extraordinary diminution in the price of computing is the other side of the famous roadmap for the semiconductor industry produced 40 years ago by Gordon Moore of Intel, the company which pioneered and dominated the evolution of the silicon chips that powered personal computers.
Gordon Moore noted then that thanks to manufacturing refinements, the computer power on a single chip was doubling every two years. It still is. This phenomenon provides the motive force for a continuing social and industrial revolution.
History lessons
The fundamental question addressed by Prof Floridi's book is: what are we doing with all this personal and corporate computer power? And what is it doing to us?
This is a big theme. In the professor's world, history itself is synonymous with the Information Age. That began a long time ago, with the invention or writing in Mesopotamia around 5200BC. From that moment on there were systems that could record events for future consumption.
This meant that it was possible for lessons learnt by one generation to be passed on more easily to the next. This was the very beginning of the Information Age. What happened in Mesopotamia and the city of Ur moved us from prehistory to history.
But - says Prof Floridi - we are now entering a third age of human development. We have moved from being information-related, to being information-and-communications technology dependent.
We have moved into the "infosphere".
Out of this come a series of big questions. But why should we ask a specialist in philosophy to tackle them? Here's why, says Prof Floridi: We need philosophy to grasp better the nature of information itself.
We need it to anticipate and steer the ethical impact of information and communications technologies on us and our environment. We need it to improve the economic, social and political dynamics of information.
And - he says - we need philosophy to develop the right intellectual framework to help us give meaning to, and make sense of, our new predicament.
"We need a philosophy of information as a philosophy of our time for our time," he says.
This may sound highfalutin', but in a very elegant way it draws attention to just how different the 21st century is going to be. And how unpredictable.
Advanced societies are growing more and more dependent on information and communications technologies. Processing power is going to continue to get cheaper and cheaper. And the amount of data is going to reach unthinkable quantities.
Amid all this change, there are one or two familiar and remaining constraints, says Prof Floridi: time (the speed of communications) and space - the sheer need for more and more storage capacity for all this processed data. Both are lagging behind.
The professor puts this new historical situation under the scrutiny of philosophy. It is far too early to come to conclusions about where the new connectivity in cyberspace is taking us.
But his book has pointers to the questions we ought to be asking, in business and in civil society. For better or for worse.