Santander profits boosted by UK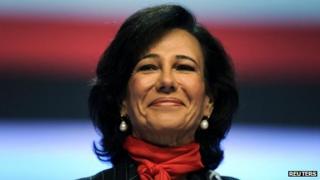 The eurozone's largest bank, Santander, has seen third-quarter profits jump more than 50%, helped by good results from its UK business.
Santander reported net profit for the July-to-September quarter of €1.6bn ($2bn; £1.25bn).
For the first nine months of the year, profits rose 32% to €4.36bn.
The results are the first under new chairman Ana Botin, who replaced her father Emilio Botin after his death in September.
"Profit growth in 2014 helped consolidate the earnings recovery, thanks to improving revenues, falling costs and less need for write-downs," Ms Botin said.
Santander's UK business reported a 26% rise in pre-tax profits to £1.01bn for the nine months to September.
"The group's three core markets - Spain, Britain and Brazil - all posted profit growth in the January-September period, something that had not happened since 2009," the bank said.