Hyundai and Kia in record settlement with US regulators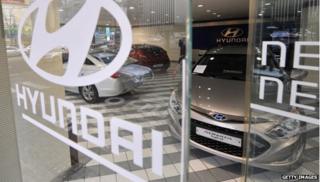 US regulators have announced that Hyundai and Kia have agreed to a record settlement for overstating the fuel economy of their cars.
The South Korean carmakers were accused of exaggerating the fuel efficiency of 1.2 million vehicles.
The $100m penalty is the largest ever paid for violation of the Clean Air Act, according to regulators.
"We are pleased to put this behind us," said Hyundai US chief David Zuchowski, in a statement.
In November 2012, the two carmakers admitted to having overstated the fuel economy of their cars by up to six miles per gallon.
This, in turn, meant that the companies underreported the cars' greenhouse gas emissions to the US Environmental Protection Agency by around 4.75 million metric tons.
As a result, Hyundai and Kia will be forced to forfeit emissions credits for the difference between the original and the overstated data - worth approximately $200m.
They have also been made to spend approximately $50m on measures to prevent future violations, making the total settlement worth $350m.
"This unprecedented resolution with Hyundai and Kia underscores the Justice Department's firm commitment to safeguarding American consumers, ensuring fairness in every marketplace, protecting the environment, and relentlessly pursuing companies that make misrepresentations and violate the law," said US Attorney General Eric Holder in a statement announcing the settlement.
Shares in both Kia and Hyundai declined nearly 6% in trading after markets had closed.
The allegations concern the Hyundai Accent, Elantra, Veloster and Santa Fe vehicles and the Kia Rio and Soul models.