Holiday pay ruling may affect millions of workers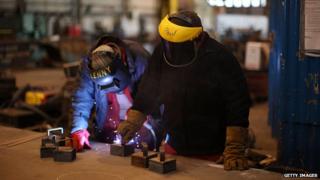 A closely-watched ruling will later determine whether millions of workers are entitled to claim for overtime to be included in holiday pay.
Across the UK, employers could be liable for billions of pounds in backdated pay, some estimates suggest.
Currently, only basic pay counts when calculating holiday pay.
Any ruling is likely to be appealed against, whatever the outcome, meaning a final decision could be years away.
Ramifications
The Employment Appeal Tribunal will rule on the Bear Scotland versus Fulton case, where three employees of the road maintenance company claim that voluntary overtime pay should have been factored into their holiday pay.
Two other cases - Amec vs Law and Hertel vs Wood - are also included in the ruling.
The cases have widespread implications for all companies paying overtime to their staff.
The government estimates that one-sixth of the 30.8 million people in work get paid overtime. This means around five million workers could be entitled to more holiday pay.
But the coalition argues that overtime should not be used in holiday pay calculations.
"The government wants to get the right balance between the needs of employers and employees," said a spokesperson for the Department of Business, Innovation and Skills.
"We do not believe voluntary overtime should be included in holiday pay and are concerned about the potential impact on employers.
"We have spoken with business groups and listened to their concerns, as well as intervening in the case to make clear our view."
Tuesday morning's judgement, expected at 10:30 GMT, can be appealed to the Court of Appeal, or it could be referred to EU courts in Luxembourg for clarification on how European law should be interpreted.
On previous referrals, the EU courts have said commission and bonus payments should be included in holiday pay.
The Bear vs Fulton case centres on the interpretation of the EU-wide Working Time Directive, and in particular the Working Time Regulations implemented in the UK in 1998.
'Wipe out'
The case has pitted the government and business against employees and unions.
"The holiday-pay time bomb could have a hugely detrimental impact on businesses up and down the country," said Simon Walker, director general of the Institute of Directors.
"It is not an exaggeration to say that some small businesses could end up being wiped out if employers who have acted compliantly and in good faith face underpayment claims backdated as far as 1998."
He added that employees would be encouraged to apply for holidays after working a lot of overtime, leading to "an administrative nightmare" for companies.
The Federation of Small Businesses, which estimates the ruling could impact about 400,000 firms in the UK, said the biggest threat was from backdated claims.
"It seems extremely unfair that businesses who have tried to do the right thing - getting the best legal advice at the time - could be hit with a bill which no one knew was coming," said the group's national chairman John Allan.
However, unions argue strongly that low-paid workers in particular rely on overtime to top up their salary, so it should be included in holiday pay.