Eurozone manufacturing growth slows, survey shows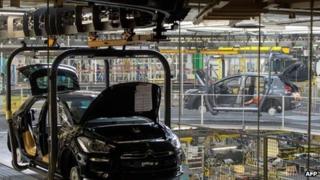 Manufacturing growth in the eurozone was slower than expected in October with price cutting failing to lift orders, according to a survey.
The latest Markit Purchasing Managers' Index of factory activity was 50.6, better than September's 50.3.
But, although any reading above 50 indicates growth, the figure was below initial estimates for October.
Germany returned to modest growth, and Spain saw its eleventh straight month of growth. France and Italy contracted.
The data will be closely watched by the European Central Bank, which in September launched further stimulus measures to kickstart the eurozone's flagging economy.
"The performance of eurozone manufacturing remained broadly flat at the start of the final quarter," said Rob Dobson, senior economist at Markit.
He said: "Manufacturing is therefore unlikely to provide any meaningful boost to the currency union's anaemic GDP growth.
"Perhaps most worrying is the trend in new orders, a key bellwether of future output growth, which declined for the second month running. It is hard to see any significant near-term boost to performance."
German manufacturing returned to growth, with a PMI reading of 51.4 in October, up from 49.9 the month before. But that rise was below Markit's initial forecast.
France slipped to 48.5 from September's 48.8, and Italy dropped to 49 in October from 50.7 the month before.
Also on Monday, revised official figures showed that Italy's economy will shrink by 0.3% this year before edging back to growth in 2015.
The Istat statistics agency had previously forecast growth this year of 0.6%.