Eurozone inflation edges up to 0.4%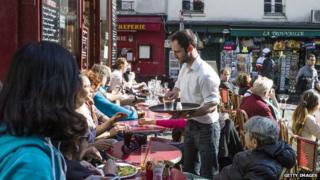 Inflation in the eurozone rose slightly in October, giving some hope that the spectre of deflation can be staved off.
The flash inflation figure of 0.4% for October was up from 0.3% in September, Eurostat said.
The services sector was the biggest influence on the rise, showing an increase of 1.2% compared with a 1.1% rise in September.
The eurozone's unemployment rate remained unchanged at 11.5% in September compared with August.
'Crumb of comfort'
The European Central Bank's (ECB) inflation target is close to, but below 2%. However, the decline in the inflation rate, together with sluggish growth, has put the bank under pressure to step up its stimulus measures.
The ECB has already cut its benchmark interest rate to 0.05% and started an asset purchase programme.
Howard Archer, an economist at IHS Global Insight, described the pick-up in inflation as a "small crumb of comfort".
"Nevertheless, October marked the 13th successive month that eurozone consumer price inflation has been less than 1% and there is still a significant risk that extended very low inflation could ultimately morph into deflation, especially given weak oil prices and still muted eurozone economic activity," he said.
With inflation still anaemic and the unemployment rate still close to a record high, Jennifer McKeown of Capital Economics said there remained "a significant risk of deflation".
Unemployment still high
Unemployment was down from 12% in September last year in the 18 countries that use the euro. That meant more than 18.3 million people were without a job in the region and just over 24.5 million in the European Union as a whole.
Germany and Austria have the lowest unemployment rates at 5% and 5.1% respectively, while Greece still has the highest proportion of jobless people at 26.4%.
Eurostat said the number unemployed for those aged between 15 and 24 stood at 3.34 million in the eurozone and just under 5 million across the EU.
Data was not given for the rate of youth unemployment in Greece, but Spain recorded the highest figure at 53.7%.