Citigroup sets aside another $600m to cover legal costs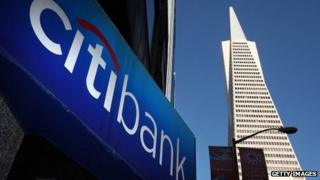 Investment bank Citigroup is setting aside an extra $600m to cover legal expenses due to "rapidly evolving regulatory inquiries".
The money relates to likely settlement of claims that Citigroup manipulated the foreign exchange market.
On Thursday, Barclays said it had set aside £500m to cover potential costs from probes into currency trading.
The UK's Financial Conduct Authority is among more than dozen regulators across the world probing currency fixing.
Citigroup announced the charge on Thursday in a regulatory filing to the US Securities and Exchange Commission.
The $600m is in addition to $951m in legal expenses previously reported, which itself was an increase from $677m in the year-ago period.
The bank's shares fell 2% in after-market trading on Wall Street after it also revised down its third-quarter net income to $2.84bn from the $3.44bn it had posted on 14 October.
Big banks have paid billions of dollars in recent years to settle investigations into their mortgage lending, commodities and interest-rate trading.
In February, Citigroup cut $235m from its first quarter earnings after it learned of fraud in a Mexican subsidiary.