When turning a blind eye leads to disaster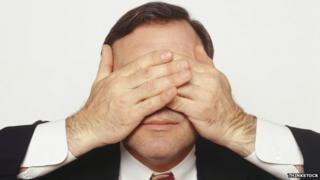 When faced with looming disaster, why do so many large organisations do nothing until it is too late? They succumb to the appeal of wilful blindness, writes Margaret Heffernan.
Wilful ignorance, or wilful blindness, seems pervasive these days.
Abuse at Winterbourne View. Phone hacking at News Corporation. LIBOR rate fixing. Fukushima. Medical care at Mid Staffordshire Hospital. Ignition problems in cars produced by General Motors. Child sexual abuse in Rotherham.
All of these incidents - and there are more - share one salient characteristic. Dozens, hundreds, even thousands of people know they have a problem - but it is just much easier to look away.
Take one example.
In 2002, William McAleer was working for General Motors as a Quality Control Auditor. He wrote to the chairman and CEO of the company to explain that he could no longer adequately discharge his job in charge of auditing the quality of GM vehicles.
Shocking revelations
Cost cutting, a climate of silence and intimidation, together with what he called "wilful ignorance" meant he no longer believed that manufacturing plants could know whether their cars were safe or not.
When, in June 2014, former Illinois attorney general Anton Valukas reported on the ignition problems in Chevrolet Cobalts that were implicated in 13 deaths, 54 accidents and the recall of millions of cars, most of the world was shocked by what he revealed.
"Although everyone had responsibility to fix the problem, nobody took responsibility," Mr Valukas wrote. He detailed the GM "salute" - arms crossed and pointing fingers.
Mr Valukas also confessed that he was stunned by levels of bureaucracy in the company.
"The Cobalt ignition switch passed through an astonishing number of committees," he wrote. "But determining the identity of any actual decision-maker was impenetrable."
Twelve years before the report, Mr McAleer's letter to the board had been a desperate attempt to warn those at the top that its systems were not working and that they were not being given all the facts.
But the board did not want to know. Mr McAleer was sent home on full pay for eight years and the letter was left unanswered.
The problem in all of these cases is not that critical information is not available - it is. The problem is that no one wants to look at it, think or do anything about it.
The way we work makes a difference. Cost-cutting and staff reduction make for very long hours, multi-tasking and the distraction that goes with it.
These constrain what our minds can and will pay attention to. Companies regularly ask people to work in conditions that guarantee they will miss things that matter.
Too scared
Academic research into organisation silence suggests that most people, when they have issues or concerns at work, will not voice them. That is because they are either afraid or think it will be a waste of time. The more people are involved, the more true this is.
Everyone assumes that with so many in the know, surely somebody will do something.
Mr McAleer was different because he chose to be that somebody. When he wrote to the board of General Motors he did so because he was a passionately loyal employee.
GM had put children his through college and graduate school and it had brought him into the middle class. It had done so for thousands like him too. What broke his heart was to see a company he loved let itself down.
Mr McAleer was a whistleblower. He eventually went public with his concerns not because he wanted to cause trouble - but because no-one inside the organisation would take them seriously.
This is typical of people in his situation. The risks of speaking up and telling the truth are so high that no one does it unless they really care.
And this is a shame because the workforce in any organisation could be its best early warning system. At every level, in every job, it is those deep inside a company who know what is really going on and spot problems early when they are cheap and easy to fix.
It is for this reason that the charity Public Concern at Work was formed in 1993, following the sinking of the Herald of Free Enterprise, the Clapham rail crash and the collapse of the bank, BCCI.
"Culture of denial"
Public Concern at Work advises employees from any company how, safely, to raise and manage their concerns. And they say they have never been busier.
The calls they get are predominantly from fiercely loyal employees who do not want to go outside to raise the alarm; they just want to get their concerns addressed justly.
Just in the past year, PCaW has seen an increase of 17% in the calls it gets. The charity says it is encouraged that more people are coming forward. But it is not all good news, according to chief executive Cathy James.
"What has followed is the systematic refusal by employers to take these concerns seriously, creating a culture of denial," she says.
"It is a travesty that 63% of concerns are denied or ignored, especially considering that sectors where we have seen the most calls, health and education, should be the pillars of best practice in our society."
As well as concerns being ignored, the charity also claims 55% of employees who came forward were victimised or dismissed for their pains.
These are grim statistics, indicating that when individuals are brave enough to speak up, their fears prove justified. The early warning system - just like Mr McAleer's quality audit - is disabled.
After almost every corporate or institution's failure, there is a call to hire people who are more ethical, more courageous, more likely to speak up.
Bravery needed
That is what the academic David Beim urged when investigating failures at the Federal Bank of New York and what Dinah Rose recommended when reporting on the BBC in the light of the scandal around Jimmy Savile.
But where are all these uniquely brave and ethical people supposed to come from?
Nothing in our education system teaches kids to stand out from the crowd - if anything, fierce competition for grades and places teaches them to conform. The problem is not one of bad people but bad systems that cannot or will not use the insights their brave employees share.
When US Sergeant Joe Darby handed in the photographs of Abu Ghraib, he did so because he felt they let down the standards of an army to which he felt fierce commitment.
When Paul Moore tried to warn HBOS that the bank carried too much risk in its culture, he was trying to save the bank before it collapsed.
And when William McAleer wrote to GM's board, he hoped to save them from the deaths, court cases, recalls and public opinion disaster that hit when the Valukas report revealed the wilful blindness of GM's culture.
These are people of courage and integrity and we need more of them.
But what we need most of all are organisations that recognise that speaking up safely is the best chance we all have of curing wilful blindness.
Listen to Just Culture on Analysis on BBC Radio 4.