Lufthansa cuts 2015 profit goal due to 'fierce competition'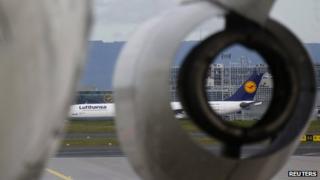 Lufthansa has cut its operating profit guidance for 2015 due to concerns about a global economic slowdown and "fierce competition" over fares.
The guidance was lowered from €2bn (£1.6bn) to an unspecified amount.
The airline group said it expected operating profits in 2015 to be a "significant improvement" on its projected €1bn result for 2014.
Lufthansa said it expected to hit its 2014 guidance despite a number of strikes by pilots this year.
The carrier reported operating profits of €849m for the first nine months of the year, while net profits rose to €482m from €247m a year earlier.
"Our results for the first nine months of 2014 represent a sound achievement in a difficult and highly competitive market environment, and one that enables us to confirm our current projections for the year as a whole," said Lufthansa chief finance officer Simone Menne.
"When we look ahead, though, we can see that the economic slowdown and the continuing declines in our passenger yields in the face of such fierce competition will affect our operating scope in the year ahead."
She added that if there were any more major strikes this year, Lufthansa might have to change its 2014 profit target as well.
So far the airline group has been hit by eight strikes by pilots' union Vereinigung Cockpit in a dispute over Lufthansa's attempt to change retirement and pension arrangements.
Lufthansa shares fell by more than 6% on Thursday morning.