Housing market is losing momentum, Nationwide says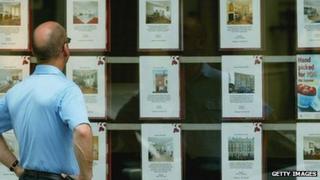 House price growth is continuing to show signs of slowing down, according to the UK's second biggest mortgage lender.
Nationwide said house price inflation slowed to 9.0% in October on an annual basis, down from 9.4% in September.
Indicators suggest the market has "lost momentum", it said.
The trend may continue in the near term, especially in London, Nationwide added.
Monthly house prices rose by 0.5% in October, taking the average house price up to £189,333.
However, Robert Gardner, Nationwide's chief economist, said: "A variety of indicators suggest that the market has lost momentum.
"The number of mortgages approved for house purchase in September was almost 20% below the level prevailing at the start of the year," he said.
Despite the gradual slowdown in house price growth, the broader economic outlook remains positive, Nationwide said.
The interactive content on this page requires JavaScript
'Irrational Exuberance'
The figures are the third piece of evidence this week which suggest a cooling of the UK housing market.
Yesterday the Bank of England said that the number of mortgages being approved had fallen to its lowest level in 14 months.
The Land Registry said that house prices in England and Wales had fallen during September, for the first time in nearly a year.
The Land Registry figures include cash sales, which can be a third of the market.
The Nationwide said tougher mortgage lending rules which began in April may be one reason for the slow-down; a fear of higher mortgage rates next year another.
Jonathan Samuels, chief executive of Dragonfly Property Finance, said the "irrational exuberance" in the market appeared to have subsided.
"The new lending rules introduced earlier in the year clearly triggered a slowdown, but since then I suspect some good old-fashioned common sense has also played a role," he added.
House price calculator
Use our calculator to see where you can afford to rent or buy