German unemployment in surprise fall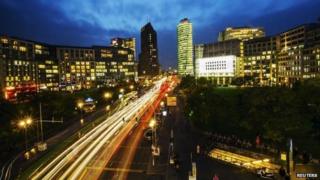 Unemployment in Germany fell this month, confounding predictions of a slight rise.
The number of people registered as unemployed in Germany fell by 22,000 to 2.89 million in October, the Federal Labour Office said.
The figures were adjusted for seasonal variations. The small decline means the unemployment rate holds steady at 6.7%.
The data is a ray of light among recent signs of economic stagnation in the eurozone.
Higher employment, moderate inflation and rising wages are helping to prop up domestic demand in Germany.
It is hoped these factors will help the government in its plan for growth this year and help compensate for weak exports, the previous driver of growth.
Data on industry orders, output and exports show them falling at their steepest rate since 2009.
Deflation fears
Data earlier in the week showed German exports to Russia fell more than 26% in August, compared with a year earlier.
"The German labour market remains solid as a rock, defying all woes from a weakening industry," said Carsten Brzeski, senior economist at ING.
Preliminary data also showed that German inflation fell to an annual rate of 0.7% in October. The cost of living was down by 0.3% compared with a month earlier.
"A single month of falling prices is not really a problem - the worry is whether it might be the start of a longer period of deflation for Germany and the eurozone which could aggravate the region's economic problems," said BBC World Service economics correspondent Andrew Walker.
In Spain, official figures showed consumer prices fell 0.1% in October - the fourth consecutive month of declines - reflecting weak demand for goods and services.
There is already concern that the eurozone faces the risk of deflation.
Other figures showed that Spain's economy expanded for the fifth quarter running in the three months to September, with gross domestic product rising 0.5%.