Mortgage approvals at 14-month low, says Bank of England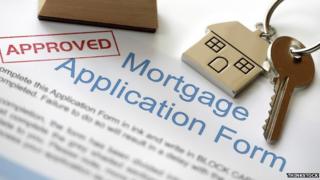 The number of mortgages being approved has fallen to its lowest level in more than a year, according to the Bank of England.
Figures show that 61,267 people had their mortgages granted in September - the lowest since July 2013.
That was significantly down on the number in August, when 64,054 mortgages were approved.
Overall, the Bank's figures show that lending is now 8.7% lower than a year ago.
One explanation is that tougher lending rules came into force in April this year.
Under those rules, banks and building societies have to ask borrowers tougher questions about whether they can afford repayments.
But Capital Economics said it was surprised by the figures.
"Given that the regulations came into force in April, the continued weakness in lending is becoming more of a puzzle," it said.
It is predicting that the "weak patch" will not last much longer.
On Tuesday, the Land Registry reported that house prices in England and Wales had fallen in September.