Deutsche Bank swings to €92m loss on legal costs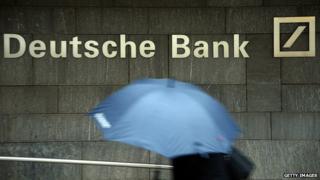 Deutsche Bank swung to a loss in the third quarter because of higher legal costs to settle investigations.
Germany's largest lender posted a net loss of €92m ($117m; £72.6m) in the three months to September, compared to a profit of €51m last year.
This comes after the firm set aside €894m to cover legal costs.
Its also announced chief financial officer Stefan Krause will be replaced by a top banker at rival Goldman Sachs.
Marcus Schenck, a Goldman Sachs partner and former chief financial officer of German utility E.ON SE, is set to take over from Mr Krause next year.
Mr Krause will remain on Deutsche's board but move to become the head of strategy and oversee the bank's cost-cutting programme.
Bank probes
The management shakeup comes as Deutsche Bank faces mounting penalties from global authorities over an alleged range of wrongdoings.
This includes its alleged role in the manipulation of a benchmark interest rates known as the London interbank rate, or Libor.
It is being investigated by US regulators for the possible mis-selling of mortgage-backed securities and allegedly breaching of US sanctions by doing business with blacklisted countries such as Iran.
The bank also faces a probe into whether its traders colluded to manipulate the $5.3tn dollar-a-day foreign-exchange market.
Deutsche Bank's co-chief executives Jurgen Fitschen and Anshu Jain said the firm was working towards a "resolution of litigation matters related to legacy issues".
"We also incurred costs of adapting to new regulation, elevating our systems and control frameworks to best in class, and investing in growth in our core businesses," they said in a statement.