Samsung market dominance wavers as competition heats up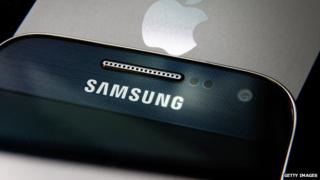 A bigger screen and more applications were not enough to keep Singapore student Jiahao Neo from recently ditching his first Samsung smartphone, which he had used for a year and a half.
The 25-year-old says he wanted change and opted for a Sony Xperia Z1 over his Galaxy Note instead of upgrading to a newer Samsung phone.
"I just wanted to try out the other brand of phones, because Samsung was kind of lagging," Mr Neo says. "There's a lot of competitors out there like Sony, HTC or even those Chinese brands that I think are a lot better than Samsung."
Mr Neo is just one of many consumers turning away from Samsung Electronics at a time when the smartphone market leader is heading towards recording its first annual earnings loss in three years, thanks to a downturn in its mobile business.
On Friday, the world's largest smartphone maker said its third-quarter operating profit fell 60% from a year earlier to 4.1 trillion won ($3.8bn; £2.5bn), marking its weakest quarterly profit since 2011. Sales also tumbled 20% in the same period.
News of Samsung's worsening condition come even as the tech giant maintains a stronghold on the global smartphone market - accounting for 25% of it in the second quarter of this year, according to technology research firm IDC. But, that's down from 32% a year earlier.
With the mobile business making up 70% of its operating profit, Samsung has launched several products recently to try to stay ahead of its rivals, such as the latest version of its flagship smartphone Galaxy S5 in April, while being the first to launch the latest tech trend - the smartwatch - last year.
It also rushed the release of the newest editions of its larger screen Galaxy Notes - the Galaxy Note 4 and the Galaxy Note Edge - ahead of schedule in September to face off against demand for Apple's larger screen iPhones.
Losing market share
But stiff competition from the likes of Apple in the premium end, and cheaper smartphones from Chinese rivals such as Xiaomi and Lenovo in the lower end, is making it more difficult for Samsung to see growth.
Analysts say Samsung will continue to lose market share unless it can figure out a way to once again "wow" consumers that no longer appear to be impressed by its massive line-up of products.
"In the past few versions of the Galaxy S4 and S5, there hasn't been a very big leap forward compared to the previous generation," says Wee Teck Loo, head of consumer electronics research at Euromonitor.
"People were expecting them to come out with something different, whereas if you look at most of those models, there's nothing really new to compel consumers to buy it."
As the mobile market gets more saturated and smartphones become more commoditised, Samsung has to dig deep to make itself stand out among the competition, says Melissa Chau, senior research manager at IDC Asia-Pacific.
"You have players like Xiaomi who have made a lot of waves on having premium phones with pretty good specs that are not dirt cheap, but you're getting almost flagship quality in some cases for $200-$300, which for a lot of people is good enough - especially in emerging markets," Ms Chau says.
Fast-growing Chinese budget smartphone maker Xiaomi announced this year that it was planning to double the number of handsets sold in 2014 from a year ago to 60 million, which is the same amount that Samsung sold in China last year.
That has not helped Samsung's case, especially when added to the delayed launch of Samsung's long-awaited Tizen operating system, which would have reduced its reliance on Google's Android system for its phones, Ms Chau believes.
"I would call Tizen a non-starter which has been baking for such a long time that they probably have missed the boat on that one," she says. "They might still try to hold on to it to see what else they could do on watches, but that's not going to be the big saviour for them."
Where next?
While analysts agree that it is too early to call the end of Samsung's reign at the top of the market with still such a sizeable gap between it and its closest competitor Apple at 12% market share, they believe that Samsung's current growth rate is not sustainable.
The double-digit growth last year that propelled Samsung's mobile phone revenue to overtake its television revenue, will no longer happen in a saturated smartphone market, according to Mr Loo of Euromonitor.
"We look at flat growth for them - it cannot be the double-digit growth they've been experiencing for the past few quarters," he says.
But in order to stay on top of the market, Ms Chau of IDC says Samsung needs to figure out how to better integrate its devices and add services on top of its phones to add value for consumers.
"That's one thing Apple has been quite strong at in terms of how does my watch work with my phone, tablet, PC or TV - the stronger they can work on that, the better position they'll be in," she says. "As devices become more commodities, it's what's your stacking on top of them that is going to bring in the value and push up the revenues."
Mr Loo, however, says Samsung needs to narrow its focus from being a mass producer of phones in every segment to concentrate on areas where there is consumer growth, such as the lower end of the market.
"The market is just so saturated, so they need to move into the mid-segment or entry level where they would probably have to compete with Xiaomi," he says.
Samsung's future plans to reignite sales growth do seem to be heading in the direction of the lower end of the market.
In its earnings release on Thursday, the tech giant said it expects demand to grow for its new "middle-end smartphone models" but that may "require a potential increase in marketing expenses associated with year-end promotion" to keep up with the competition.
But Mr Loo warns that Samsung's earnings may also take a hit in the long term from this move. "Once you move to the mid-range segment, you look at the profit margin, and you probably have to sell two or three phones to equal the flagship model revenue that you can get."