German business confidence falls again, Ifo says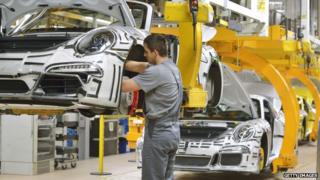 German business confidence has fallen to its lowest level in almost two years, a survey suggests, raising concerns about the strength of Europe's largest economy.
The Ifo think tank's closely-watched Business Climate Index fell to 103.2 in October, down from 104.7 in the previous month.
"The outlook for the German economy deteriorated once again," Ifo said.
The country's economy contracted by 0.2% between April and June this year.
There are growing concerns about Germany's ability to bounce back in the second half of the year.
Earlier this month, the government sharply cut its growth forecast for this year and next, following weak export and industrial output figures.
"Things have not gone well for German industry and there are no bright spots for industry," said Ifo economist Klaus Wohlrabe.
Following the latest Ifo survey, which showed confidence at its lowest point since December 2012, analysts said the recent slew of weak data was compounding fears about wider issues outside of Germany.
"We're in a downward spiral in terms of mood," said Andreas Scheuerle, an economist at Dekabank.
"The original mood killers - geopolitics, eurozone weakness, German economic policy and deflation concerns - have led to big downward revisions of forecasts and the weaker economic expectations are now weighing on sentiment."