Hong Kong-Shanghai Stock Connect delay hits bourse shares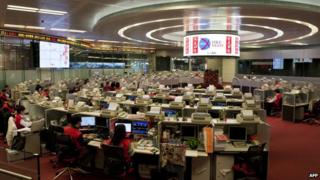 Shares of Hong Kong Exchanges and Clearing have tumbled by as much as 5% to a six-month low after a landmark scheme to connect it with Shanghai's stock market was delayed indefinitely.
Hong Kong's benchmark Hang Seng Index also fell by more than 1% because of uncertainty around the postponement.
The Hong Kong-Shanghai Stock Connect is viewed as one of the biggest market developments in China for decades.
However, HKEx said it had not received the "relevant approval".
"There have been market expectations that Stock Connect will commence its operation in October 2014," HKEx said in a statement on Sunday.
"The parties are technically ready to implement Stock Connect. However, at the date of this announcement, HKEx has not received the relevant approval for the launch of Stock Connect, and there is no firm date for its implementation."
New timetable?
Many investors, including more than 90 Hong Kong brokerages, have been preparing for months for the Stock Connect.
The cross-border trading venture will allow foreign investors to get access to China's mostly closed-off $4tn stock market.
It is believed Stock Connect will be the first step towards integrating China's capital markets with the rest of the global financial system.
The "arrangement is another step in the long term process of liberalisation and opening up of China's financial markets," Louis Kuijis, China economist at RBS said.
But following the delay, some speculate the launch may be in limbo due to the political protests in Hong Kong.
Pro-democracy activists have been camped out in Hong Kong's main commercial thoroughfares for a month calling for the right to pick their own chief executive.
There are also concerns around technical and regulatory issues surrounding the launch.
Mainland China and Hong Kong operate two different legal and tax regimes, which some analysts say may make implementation of Stock Connect problematic.