Used car buyers 'need more support'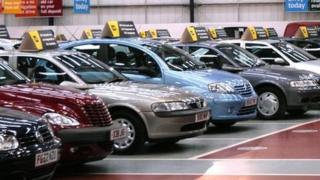 Better protection is needed for consumers buying used cars, says a commission studying the high level of complaints against the sector.
Police and trading standards officers must work together more closely to tackle organised criminals, it said.
The commission represents the industry, consumer groups and trading standards.
The AA says 210,000 vehicles are sold each year with a major fault and some 180,000 are "clocked" - with miles taken off the odometer.
It estimates that 750,000 consumers a year face unresolved problems with a used car purchase.
Unresolved issues
Used car sales from independent salesmen tops the league of all complaints handled by Citizens Advice.
The consumer charity said it had dealt with 45,000 complaints about second-hand cars in six months to the end of September.
"While the majority of second-hand car buyers will have a trouble-free experience, too many consumers are left with unresolved issues or thousands of pounds out of pocket," said Consumer Minister Jo Swinson.
The commission, set up last November, recommended:
Police and Trading Standards work closer together to tackle criminals who steal vehicles for export, to clone or to break up for parts
A set of standards for all codes and trader-approval schemes
More information to be gathered on used cars to target investigations on emerging trends
Kieren Puffett, editor of Parkers car buying guide, said more detail on the proposals was needed.
He said the plans were a good starting point but more could be done, such as making digital service records mandatory.
He said that if digital records were compulsory, potential buyers would get a clearer picture of the car's history, rather than relying on the MOT certificate.
"The initial findings and recommendations will improve things for consumers but has it gone far enough?" he said.
"Used car buyers need a clear code for car dealers so they know exactly the service they should be getting, what checks should be made on cars prior to sale and what safety net there is for consumers if they do buy a car that turns out, for example, to be clocked."