GlaxoSmithKline shares up as profits beat forecasts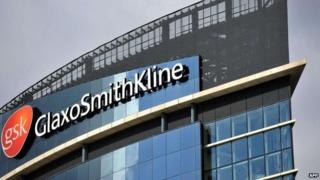 GlaxoSmithKline's shares rose 4% after its third-quarter results beat expectations and it pledged to return an additional £4bn to shareholders via a special share scheme.
The UK pharmaceuticals giant reported a pre-tax profit of £548m for the three months to the end of September, sharply down from £1.4bn a year ago.
But the results beat analyst forecasts.
Hargreaves Lansdown's head of equities, Richard Hunter, said the results could prove "a turning point".
"The drive towards containing costs is also in evidence, whilst the company anticipates significant savings as a result of the restructure. In the medium to long term, Glaxo is also predicting a potentially lucrative pipeline, which should underpin prospects," he added.
GlaxoSmithKline's shares have tumbled 14% over the past three months, compared with a 5% fall for the FTSE 100 over the same period.
The business has been rocked by allegations of bribery in China, requiring it to pay a fine of nearly $500m, as well as patent expiries.
A downward turn in its US business, due to pricing pressure on its key asthma drug Advair, and the impact of the strong pound on overseas profits have also weighed on the shares.
However, GSK said it was now targeting £1bn of annual cost savings over the next three years aimed at "refocusing" the business.
It also said it would explore a possible flotation of ViiV Healthcare, a division focusing on treatment for HIV, to "enhance visibility within the group".
The firm also reiterated its financial outlook for the full year, saying core earnings would be "broadly similar to 2013".
"We have continued to make strategic choices to create value from assets held in the group and to respond to the pressures we are facing in our operating environment," said GSK chief executive Andrew Witty.