Car insurance premiums creeping up, says AA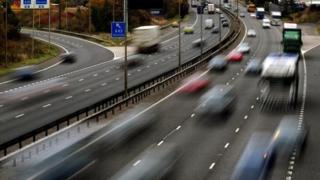 UK car insurance premiums have risen for the first time in more than two years, with further rises predicted.
The basket of the cheapest comprehensive cover rose by £6, or 1.2%, in the three months to the end of September, to £531, the AA said.
Generally, in the market as a whole, premiums were up by 4.2% over the same period to an average of £891.
The rise comes after period of falling prices owing to a crackdown on fraudulent claims.
Janet Connor, managing director of AA Insurance, said that the 14.4% fall in the average premium for a motorist who shops around compared with a year ago was also the result of strong competition in the market.
"Premiums are, on average, now similar to their 2010 level and are no longer economically sustainable," she said.
"I believe this small upward movement in premiums will lead to further modest increases over the coming months."
National difference
She claimed that more could have been done by the government to tackle fraudulent claims, which would have reduced premiums further.
She suggested that there should be a ban on whiplash claims for low-speed accidents, and compensation payments should go directly to medical bills rather than as a lump sum to the claimant.
The figures suggest the biggest increases in the last three months were in southern England, but there was a slight fall in Wales.
Scotland saw the cheapest premiums, the AA added, with North West England still the most expensive.
Separate figures from the AA suggested that the cost of the average buildings and contents insurance policy fell by 2.4% over the three months to the end of September, and by 11% over the last year.