Worries for those denied payday loans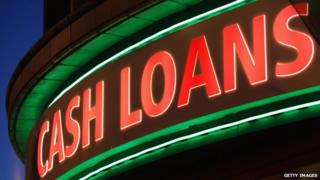 The fate of people turned down for payday loans owing to stricter regulations on the industry has prompted polarised debate.
A trade body, the Consumer Financial Association, has claimed that only a quarter of those turned down ended up better off financially.
It said charges for late bill payments and overdraft fees meant many rejected applicants were worse off.
But debt experts suggest some should not be borrowing at all.
Price caps
The Financial Conduct Authority (FCA), which took over regulation of the consumer credit sector on 1 April, has been cracking down on payday lenders.
It has forced them to conduct more affordability checks and put controls on Continuous Payment Authorities (CPAs), which allow lenders to take money from people's bank accounts.
From January, it has pledged to cap payday loan rates at 0.8% a day of the amount borrowed, and said that in total, no-one would have to pay back more than twice what they borrowed. It is currently consulting on the rules.
A survey, commissioned by the CFA, which represents a number of short-term lenders, examined the impact on 720 people whose application for a short-term loan was turned down.
It found that 27% of those later defaulted on a bill payment, 4% turned to an illegal money lender and only 2% went to a regulated credit union.
CFA chief executive Russell Hamblin-Boone claimed "hundreds of thousands of people are now out of credit".
"Being denied access to short-term credit is reducing their options, costing them more and putting them at financial risk," he said.
"It is vital that when finalising the price cap, the regulator does not exacerbate this situation by shrinking the market so much that it creates more household debt problems."
However, Citizen's Advice said that High Street banks could offer "responsible micro-loans" as an alternative to payday loans, but short-term lending of any description was not appropriate for everyone.
"People should not be given payday loans they have no chance of repaying. Anyone who is turned down for a payday loan should be pointed towards free, impartial debt advice to help them address their money problems," said Gillian Guy, chief executive of Citizens Advice.
Lakshman Chandrasekera is chief executive of the London Mutual Credit Union, which offers its own short-term loan, but at a relatively low rate.
He said that credit unions' membership was growing and so was their loan book.