Give cities more power to boost UK growth, says study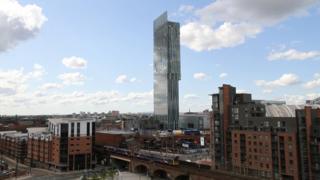 Allowing UK cities to make their own decisions on tax and spending could boost economic growth by £79bn a year by 2030, a year-long study has concluded.
The amount equates to boosting current UK productivity by 5%, said the RSA City Growth Commission, which conducted the study.
It is pushing for draft legislation to be in place by 2015.
"Our centralised political economy is not 'fit for purpose'," it said.
The commission, chaired by economist Jim O'Neill, concluded that shifting power away from government ministers and officials to cities would drive up the UK's long-term rate of economic growth.
"There needs to be a radical reshaping of the UK's political economy, with our metros given sufficient decision-making powers and financial flexibilities in order to become financially self-sustainable," the commission said.
Better connected
The report said that transport links in the north of England should be improved, particularly in the North West in an area it calls "ManSheffLeedsPool".
It suggested a new high-speed underground system, with a single transport payment card that would work across the region, similar to London's Oyster card.
Also upgraded broadband services would "drive additional inward investment to our cities".
The commission said the current national approach to skills training and immigration was hurting businesses.
It suggested that handing funding for training over to cities would enable them to provide the right kind of training.
It also wants the current national immigration policies to be reformed.
If the UK persists in restricting immigration to meet its "growth-inhibiting" net migration target, there is "a risk that households in all metros will suffer in the long term, as GDP and GDP per person falls and average incomes are squeezed", it added.
"In a world in which cities are the new drivers of growth, decentralising our political economy will boost GDP and enable our major metros to achieve their social and economic potential," said Ben Lucas, chair of public services, RSA and city growth commissioner.
The report from the RSA, or Royal Society for the encouragement of Arts, Manufactures and Commerce, is the final report in a series commissioned to examine policies to promote growth in the UK's regional cities.