Rising property values prompt equity release loans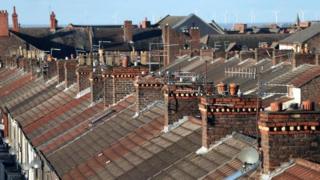 Borrowing drawing on the equity tied up in people's property has hit its highest quarterly level since records began in 2002, figures show.
Equity release lending totalled £375.5m in the third quarter of the year, the Equity Release Council trade body said.
More than 5,500 people aged over 55 released equity from their homes over the same three months, it added.
However, the Money Advice Service suggests this form of borrowing can be "expensive and inflexible".
Suitable?
The total borrowed in the first nine months of the year has reached 95% of the total of all of 2013, the figures showed.
The average value of equity release also reached its highest level since 2002 in the third quarter of the year, with homeowners typically "releasing" £67,467.
Nigel Waterson, chairman of the Equity Release Council, claimed that for many people aged over 55, pension savings were failing to cover rising costs.
"Rising house prices also mean that customers have a growing pool of equity at their disposal and can still keep a large proportion of the value of their house intact." he said.
"Equity release can offer a large and much-needed boost to people's finances, proving comfort and stability throughout retirement."
However, the government-backed Money Advice Service said that this form of borrowing was not suitable for everyone.
"They can be expensive and inflexible if your circumstances change. They may also affect your entitlement to state or local authority benefits," it warned.
Steve Wilkie, managing director of provider Responsible Equity Release, said that many of their customers were motivated by providing early inheritance for members of their family.
He said the largest increase in custom was in the North East and the South East of England.