Russian rouble weakens on debt downgrade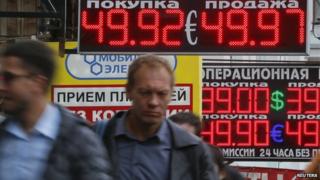 The Russian rouble has weakened further against the dollar following a downgrade of the country's debt rating by the ratings agency Moody's.
The rouble was trading at 41.056 to the dollar, down 0.8% from Friday and not far from the record low hit last week of 41.14 to the dollar.
On Friday, Moody's cut its rating of Russian debt to Baa2, its second-lowest investment grade.
It blamed the economic damage caused by the sanctions.
A credit rating is important as it gives investors an indication of the riskiness of investing in a debt product and can affect how much government's have to pay to borrow money.
'Slump'
In a statement, Moody's said: "The tightening of sanctions against Russia has already begun to aggravate the slowdown in economic growth and to undermine consumer and investor confidence in the country.
"Domestic demand slumped in the second quarter, including a notable decline in inventories and investment.
Sanctions were imposed on Russia after it annexed Crimea in March and were strengthened amid accusations that Russia was supporting rebels in Eastern Ukraine.
Moody's put Russian government debt "on watch" for a ratings downgrade following those sanctions and since then the rouble has fallen 15%.
In early September Ukraine government forces and pro-Russian rebels agreed a truce to stop fighting.
Since then the European Union has been brokering talks aimed at a lasting peace deal and to solve a dispute over Russian gas supplies to Ukraine.
Over the weekend Ukraine's President, Petro Poroshenko said a deal had been reached with Russia over gas supplies for the winter.
Mr Poroshenko said the deal could be signed in the next round of talks which begin on Tuesday.
Russia has threatened to cut off gas supplies to Ukraine, due to unpaid bills.
Growth threat
The crisis over Ukraine and the resulting sanctions are having a serious impact on the Russian economy, according to Moody's.
It expects real growth, which includes the effect of inflation, to turn negative at the end of this year and to continuing decline until "at least mid-2015".
"Even at today's levels, sanctions are likely to undermine medium-term growth somewhat, for example by impeding exploration activities in the hydrocarbon sector.
"Any widening in the scope of the sanctions, as would be increasingly likely the longer the crisis persists, would magnify the medium-term effect," Moody's said in its report.
The credit rating agency also expressed concern over the strain that the crisis is putting on Russia's reserves of foreign currency.
It says that Russian reserves remain "substantial", but because access to major overseas sources of financing have been cut off, Russia is spending significant sums on supporting public and private sector finances.