Jimmy Choo shares rise after low market debut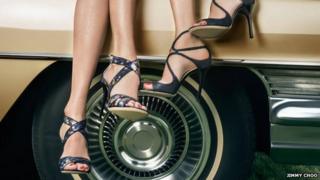 Shares in luxury shoemaker, Jimmy Choo, rose on their market debut after trading kicked off at the lower end of their pricing range.
The firm has sold just under 26% of its shares in an initial public offering to raise money for expansion in Asia.
As a result, Jimmy Choo, 70% owned by its founding company JAB Luxury, is valued at £545.6m.
Chief executive Pierre Denis said they were delighted with the successful share flotation.
"Today's announcement marks an important milestone for Jimmy Choo and recognises not only the appeal of our high quality products but also confidence in our ability to outperform the luxury shoe market," he said.
In early trading the shares rose from their launch price of 140 pence, which was right at the bottom of the suggested pricing range, to 141 pence.
The shoemaker has said it plans to open 10 to 15 new shops a year, and will focus on expanding in Asia.
The Jimmy Choo brand was popularised by the hit US TV show Sex and the City. It sells upmarket bags and accessories as well as men's and women's footwear.
Recent share market volatility has prompted several other companies to cancel their stock market listings. Aldermore, a UK based lender, was also supposed to float on Friday but withdrew.