Chiquita rejects banana buyout from Safra and Cutrale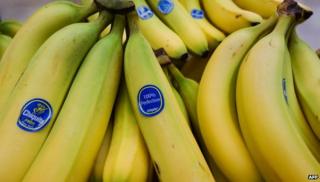 US firm Chiquita rejected an offer from Brazilian billionaires Joseph Safra and José Luís Cutrale that would have valued the firm at $1.3bn (£808m).
The company said the offer was "not in the best interests of Chiquita shareholders," in a statement.
Chiquita also encouraged shareholders to approve of its merger with Irish banana producer Fyffes.
Shareholders will vote on that proposal, first outlined in March, at a meeting on 24 October.
Mr Safra runs the investment firm Safra Group and Mr Cutrale, a close friend, is the head of Brazilian juice maker Grupo Cutrale.
In March, Chiquita announced plans to merge with Fyffes to create the world's largest banana firm.
The US company also said it would move its headquarters to Ireland, where the corporate tax rate is lower - a move that is increasingly being looked down on by the US government, which has sought to curb the practise.
The global banana market is currently controlled by four firms, Chiquita, Dole Food Company, Fresh Del Monte and Fyffes, according to the United Nations.