UK firm operating in Ebola-hit West Africa goes bankrupt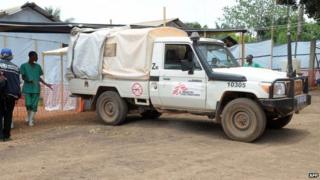 A London-based mining company operating in crisis-hit Sierra Leone has gone into administration.
London Mining suffered high costs, falling iron prices, and the impact of the Ebola virus in West Africa.
Administrators from accountants PricewaterhouseCoopers have been appointed to run the firm and try to find a buyer for the Marampa mine.
London Mining had already withdrawn non-essential staff from Sierra Leone.
"The board and management will be working with the administrator of London Mining to maintain the Marampa mine as a going concern, although at this time this is not confirmed," the miner said in a statement.
London Mining warned in late September that it did not have enough cash to operate its only mine and that it was in talks about a potential "strategic investment".
Trading in London Mining shares were suspended last week at the request of the company after directors warned that it was running out of money.
Iron ore prices have fallen by almost 40% over the past 12 months. Many potential investors are thought to have been put off because of the uncertainty over the Ebola crisis.