A million pensioners still living in poverty, says Age UK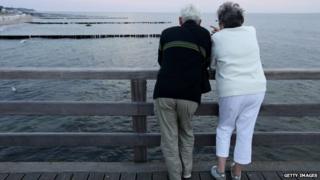 More than a million pensioners are still living in poverty, partly due to their failure to claim benefits, the charity Age UK has claimed.
In a new report, it said 1.6m pensioners in the UK are living below the poverty line, and are "floundering" on low incomes.
It conceded that the numbers living in poverty had fallen since 2000, but said progress had now stalled.
The government said it was trying to help pensioners claim their benefits.
The report, called How We Can End Pensioner Poverty, said that many pensioners "had been walking a tightrope in recent years," as food and utility bills have risen.
But the biggest cause of poverty was that people are missing out on £5.5bn worth of public support.
'Scandal'
The report found that:
1.6m pensioners are missing out on Pension Credit, worth £33 a week
2.2m pensioners are missing out on Council Tax Benefit, worth an average £728 a year
390,000 pensioners could have claimed Housing Benefit, worth £48 a week
Age UK said that many people do not know that they are entitled to the extra income. Others feel too proud or embarrassed to claim.
"It is nothing short of a scandal that there are still so many vulnerable older people in the UK living in poverty - unable to afford decent food, heat their home or live an independent life - when billions of pounds in benefits are unclaimed," said Caroline Abrahams, charity director at Age UK.
The government said it was determined to help pensioners claim their rightful benefits.
It said the telephone helpline for Pension Credit can also handle calls for Housing Benefit, enabling both benefits to be claimed together.
A spokesman for the Department for Work and Pensions (DWP) said no one should be ashamed of claiming.
"We are absolutely determined to make sure that pensioners receive the full support they are entitled to - with as little hassle as possible," the spokesman said.
And he pointed out that the state pension was currently protected by the "triple-lock" until the end of the parliament, meaning the highest of CPI inflation, average earnings, or 2.5%.
As a result, the state pension will increase by 2.5% next April, even though inflation is currently 1.2%.
Complexity
Age UK would now like to see:
official targets to reduce pensioner poverty
all pensioners able to claim the single-tier state pension, which otherwise starts in April 2016
the state pension's "triple-lock" to be put into legislation, making it permanent
a reduction in the complexity of claim forms
In his capacity as a Liberal Democrat, the Pensions Minister, Steve Webb, has already called for the state pension triple-lock to be enshrined in law.
The DWP said that people can claim housing benefit and pension credit in just one free phone call on 0800 99 1234, without the need for a signed form.
---