BSkyB profits double on broad demand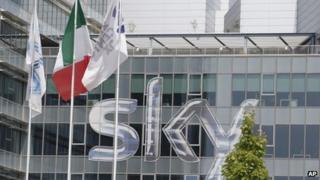 Satellite TV broadcaster BSkyB has said quarterly profits more than doubled on broad demand for its pay TV and broadband services across Europe.
It reported a pre-tax profit of £608m for the three months to the end of September, compared with £193m for the same period a year earlier.
Revenue grew 6% to £1.9bn as BSkyB added 760,000 new paid-for products.
The company said it added 46,000 new TV customers and 75,000 new broadband customers in the quarter.
It also gained £429m on the sale of a 6.4% stake in ITV.
In June, Sky announced a £5.6bn takeover bid for Sky Deutschland and Sky Italia in which it already has significant stakes. When complete the deal will see Sky serving 20 million customers across Europe.
BSkyB chief executive, Jeremy Darroch, said Thursday's figures illustrated another "strong start to the year".
He added: "The investments that we have made in new connected TV services are delivering growing benefits to our business. Our mobile TV service Sky Go Extra achieved a record quarter of growth."
He added BSkyB was making "good progress" on its proposed takeovers of Sky Deutschland and Sky Italia, having received both shareholder and regulatory approval for the deal.
On an operating basis Sky saw its profits rise 11% to £316m slightly ahead of City forecasts of £311m for the period. Revenue from its Sky Store online TV service rose 125% in the quarter compared with a year earlier.
BSkyB's results are a turnaround from the second half of last year when it a reported fall in pre-tax profits of 9.2% from £610m to £554m.