UK bank Aldermore abandons flotation plans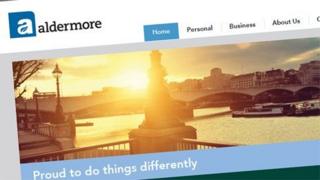 UK bank Aldermore has scrapped plans to float its shares because of the recent turbulence on global stock markets.
It had been planning to raise about £75m through the flotation, which was set to value the bank at about £800m.
However, since the bank announced its plans in September, stock markets have fallen sharply.
Aldermore, founded in May 2009, is a specialist bank that concentrates on lending to small and medium-sized businesses, as well as to homeowners.
In a statement, the bank said: "Due to the recent deterioration of global equity markets, Aldermore's board and shareholders have elected not to proceed at this time with the initial public offering of Aldermore.
"Aldermore continues to perform strongly, with excellent organic loan growth and a proven track record of delivery through its modern, digital platform."
Stock markets worldwide have seen big falls in recent weeks, with investors rattled about the prospects for global growth.
Weak economic data from Germany has raised fears that the eurozone is heading for another recession, and last week the IMF cut its forecast for global economic growth for both this year and next.
Since Aldermore announced its flotation plans on 22 September, the FTSE 100 index has fallen by more than 5%.
Aldermore's decision to scrap its flotation shifts the attention to Virgin Money, the UK bank part-owned by entrepreneur Sir Richard Branson, which announced its own flotation plan earlier this month.
Virgin Money is planning to raise about £150m through the listing.