Tesco: What should it do next?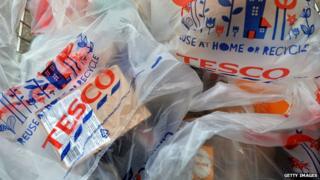 Tesco's new chief executive Dave Lewis may feel under siege at the moment.
Regulators are investigating the company's accounts after it revealed that profits have been overstated, and executives have been asked to step aside while that probe is underway.
Meanwhile shopping habits are changing.
Tesco's big superstores are no longer the big draw for customers, who are experimenting with online shopping, discounters like Aldi and Lidl and convenience stores.
So what can the company do to revive its fortunes?
We asked five experts for their views.
Revamp out-of-town superstores
Of the big four, Tesco is the most exposed to the shift away from big out of town superstores.
The fact is Tesco's store portfolio is no longer fit for purpose. Today, shoppers want to buy little and often.
But the bulk of Tesco's profits come from the superstore format, so the firm is stuck between a rock and a hard place.
Under Philip Clarke they were experimenting with the big stores. They tried restaurants and coffee shops.
One trend we are seeing is brands joining forces to make stores within stores. For example, there was Sainsbury's recent deal with Jessops.
Sainsbury's have also opened a Netto alongside one of its stores. Tesco could consider moves like those.
Also things that are bought online, like books, music and electronics, don't need to be on the shelves.
Tesco could use that space to expand clothing, baby care, health and beauty. They could expand the Florence and Fred brand which has been really successful.
However, store remodels can be expensive and often do not result in sustained sales uplifts.
Natalie Berg, Planet Retail
Learn from history
One of the greatest ever turnarounds was Asda in the early 1990's under Archie Norman.
One of Archie's key messages was to make clear at the start how difficult the turnaround was going to be, so that he looked a hero when it was achieved.
But Archie also always said that a big company with a lot of top-line sales would have enough levers to pull to make a difference to the bottom line.
Changing the culture of the Asda business and unleashing the talent in the store managers was an important part of the turnaround.
Fast forward 10 years or so and it was Sainsbury that was in trouble, but the ebullient former Asda executive, Justin King, came in as chief executive in 2004 and soon launched his recovery programme for the business with the slogan "Making Sainsbury's Great Again".
Sainsbury's stronghold in the affluent South-East was a key asset, however, together with a reputation for quality fresh-food and own-label ranges.
And Sainsbury avoided the temptation to follow Tesco down the road of opening huge out-of-town hypermarkets and developing too big a non-food presence.
Nick Bubb, retail analyst
National pricing has to go
National pricing: it has to go as soon as possible.
Rents in the most expensive areas are six times the level of the cheapest areas, wages 20% higher and despite that Tesco offers the same product at the same price despite the material difference in costs.
The discounters love it: it means Tesco can't go as low in price as its local costs would permit in their back yard.
Tesco has lost its value credentials. When I joined the company a long time ago, being much more than 1% adrift from Asda on price was unheard of.
Tesco are now 6% adrift on price across the entire range.
This leads me to suggest segmentation.
It would mean carving out part of the store estate and turning the company into a low-cost, low-price food retailer; not mimicking the discounters but offering a great value alternative.
Bruno Monteyne, senior analyst, Bernstein Research and former Tesco director
Rethink special offers
Tesco has a bewildering array of deals and bulk offers, like buy one get one free, which no longer appeal.
For a lot of shoppers it is buy one and throw one away. So you end up spending more because you throw things out.
And people are more conscious of waste now.
If you go to Aldi or Lidl, they have lower price single items.
They have also have been very clever at appealing to shoppers that may have been embarrassed to shop at Aldi, by stocking unusual items like Japanese beef.
It's now a badge of honour and even fashionable to shop there.
Julie Palmer, retail industry expert, Begbies Traynor
Restore the trust of shareholders
The company's overstatement of profit is obviously clouding the company at the moment. The fact that the company has had to suspend eight executives, that's really going to weigh on shareholder's minds.
They need to take very strong action to try and ensure that they don't fall out of favour with the people who are investing them.
They need to get the management expertise that satisfies the shareholders that they are doing something.
Also, shareholders are much more bearish in the current investment climate.
Some shareholders want Tesco to refocus exclusively on the UK market. I might disagree with them on that.
Tesco has an unbelievable opportunity in India at the moment. Tesco is the only supermarket retailer in India that can be part of a majority-owned foreign multi-brand operation.
Jon Copestake, chief retail analyst at the Economist Intelligence Unit