The ugly commercial face of the beautiful game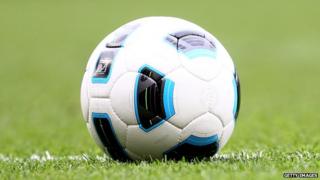 BBC research shows that in a time of squeezed living standards, football fans are forced to incur above-inflation rises in admission prices. So how pernicious is the commercial structure of the game?
My initial reaction when reading this year's Price of Football study was to lament my addiction (that is what it is) to Arsenal.
Arsenal has the most expensive match day ticket at £97, and the most expensive season ticket, at £2013 (and that excludes its even more pricey premium season tickets, called Club Level).
Also Arsenal's cheapest season ticket, of £1014, is actually more expensive than the priciest season ticket at all but two other Premier League clubs.
So why on Earth do I - and thousands of others - pay all this money for the ritual pain of being humiliated by Chelsea, season after grinding season?
Well I don't feel as though I have a choice.
At the age of eight, my sister and I were deposited by my Arsenal-mad dad at what was then called the Schoolboy's Enclosure every other Saturday.
I suppose I could have defected to Spurs or given up football altogether. But I fear had I tried, the sulky reaction of my father would today probably be classified as child abuse.
So here I am today with my costly Arsenal habit.
And I guess like millions of you, I am asking the question whether the fact that match-day tickets have risen in price by well over the rate of inflation during the past 12 months and the past three years may show that there is something badly wrong with the commercial structure of the industry.
And remember that these increases have occurred at a time of sharp squeeze on living standards - and at a time when most retailers have found it almost impossible to raise prices at all.
So what is going on?
Well it is the continued rampant inflation in players' wages that is driving these rising tariffs for fans.
What is striking is that the vast majority of clubs operate at a loss.
And even with club revenues rising sharply, the ratio of club wages to club turnover in the English Premier League rose by more than one percentage point last year to 71%, according to the latest Deloitte Annual Review of Football Finance.
Note that in the Premier League, match-day money is less than a quarter of club turnover.
Half of the torrent of funds that gush into top-flight clubs comes from TV rights. And even with these surging higher and higher, they cannot match the suction power of stars' pay.
And as the wages of a Costa or Falcao increase to the stratosphere, they pull up the earnings of seriously average talent.
Now the reason I harped on about my Arsenal habit is that it is one explanation of clubs' extraordinary power to set prices.
The point is that only in theory do I have a choice about supporting another club or giving up on Premier League football.
Be clear, I am not asking you to weep for me. But Arsenal and other clubs have a strong local monopoly over me and thousands of others.
Game attendances have actually been rising in the face of above inflation increments in ticket prices.
But this combination of near monopoly pricing power and irresistible cost pressures from players' wages is bad for everyone - fans and club owners - with the exception of a small number of athletes who were born with and nurtured a precious talent.
So just possibly it is not sour grapes to suggest that the seemingly unstoppable rise and rise and rise in what the superstars trouser may be unhealthy.