Should employers pay for women to freeze their eggs?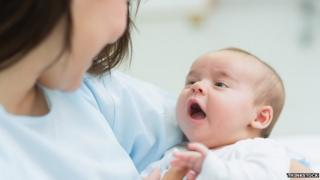 A recent story by NBC news revealed that Facebook helps its female employees in the US to pay for the cost of freezing their eggs, while Apple is planning to introduce the policy in January.
The tech giants are thought to be the first major American companies to offer this benefit.
But does this level the playing field for women, as some have claimed, or is it step too far by employers?
The reaction has been mixed - with many applauding the move but some less enthusiastic responses.
"Anything that gives women more control over the timing of fertility is going to be helpful to professional women,'' Shelley Correll, a sociology professor and director of the Clayman Institute for Gender Research at Stanford University, told the news agency AP.
"It potentially addresses the conflicts between the biological clock and the clockwork of women's careers: the time that's most important in work, for getting your career established, often coincides with normal fertility time for women. This can potentially help resolve that by pushing women's fertility into the future.'
'Part of their responsibility'
Dr Simon Thornton, group medical director at Care Fertility, a chain of fertility clinics based mainly in the UK, says that many women make the mistake of equating physical fitness with egg fitness.
"Many women are shocked to find that although they are physically fit their egg quality is actually poor, and that if they had frozen their eggs in their early 30s the picture would have been very different," he says.
"It is a very good thing that companies are seeing it as part of their responsibility to their dedicated female employees and that forward-looking companies like Facebook are actually doing something about it."
While Facebook declined to comment, Apple said in a statement that it "cares deeply about our employees and their families".
"We continue to expand our benefits for women with a new extended maternity leave policy, along with cryopreservation [freezing eggs] and egg storage as part of our extensive support for infertility treatments."
It also offers an adoption assistance programme.
"We want to empower women at Apple to do the best work of their lives as they care for loved ones and raise their families," the statement concluded.
'Not the answer'
But some feminists are not completely convinced about the move.
"There's a danger that with this sort of policy companies give a signal - or even promote the idea - that a women needs to postpone having children in order to succeed in the workplace," says Daisy Sands, head of policy at the Fawcett Society, a group that campaigns for equality for women.
"In reality, probably a very small amount of women will take up the offer, but it again puts the onus on women rather than men to think about when to have children and how this will impact on their career," she says, adding that it could also mean that other important structural changes are not introduced.
"We're seeing now that the gender pay gap has more or less closed for women in their 20s, but the pay gap leaps up for women in their 30s and that's because after having children, many women are forced to downgrade their level of seniority and pay, as the jobs they were doing previously are simply not available on a flexible basis.
"Freezing eggs is not the answer."
Bring more women in?
Geraldine Gallacher set up a company, Executive Coaching, that specialises in advising women who return to work after having a baby, particularly at law firms and banks. She also feels that this sort of policy reinforces the message that it is a problem to be a mother.
"It's a high-tech solution to a human problem," she says. "It's trying to change nature rather than the organisation. And the same issues are going to apply when women do eventually have children."
She says companies will go to great lengths to keep staff happy - such as providing breakfast and even beds at work - but that this is "a step too far".
The one thing that companies could do to make a returning mother's life easier is give them more autonomy over their hours, she argues.
She adds that offering to pay to freeze eggs may not actually attract more women into the industry.
And the tech industry is indeed known for being male-dominated. Comments such as those from Microsoft boss Satya Nadella last week advising women not to ask for a pay rise will not have helped their cause.
However, Facebook and Apple would argue that by offering a wider range of benefits for women, not just freezing eggs, they are doing their part to attract more of them to the industry.