More than half of local health contracts 'go outside NHS'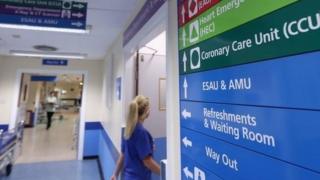 The value of clinical contracts awarded by local health commissioning groups has risen to just over £2bn between April and September this year, data shows.
Of the total contracts awarded since April 2013, more than half have gone to non-NHS providers, says the NHS Support Federation.
Opponents say it is tantamount to privatisation.
But supporters say it could improve patient care.
The England figures come at a time of increasing debate about the role of health organisations in England which are not part of the NHS.
A £1.2bn contract for cancer and end-of-life care in Staffordshire, currently out to tender, has caused controversy because it is the biggest such outsourcing deal in NHS history.
Back door
Some contracts have been awarded to private companies, some to voluntary organisations and some to existing NHS providers including a recent £800m deal for elderly care in Cambridgeshire.
Clinical commissioning groups, known as CCGs and run largely by local doctors, control budgets for patient care in their local areas in England.
The campaigning group NHS Support Federation has examined tendering notices published by CCGs under European Union rules.
It says the groups have advertised 573 contracts since April 2013, worth a total of £7bn. Of those, 88 have been awarded so far - 56% of them to non-NHS providers, although less than half by value.
The research shows there has been a sharp increase in the value of contracts awarded by CCGs. Deals worth £266m were agreed between April and September 2013. Over the same period this year, the total was just over £2bn. To put that in perspective, the total annual budget for CCGs is £65bn.
One of the first contracts of its kind has been awarded to a private company to organise musculoskeletal services (care of muscles and joints) in Bedfordshire. Circle started the five-year £120m contract in April this year. Its role is to co-ordinate care, using hospitals and physiotherapists as necessary.
Nick Boyle, head of business development at Circle, believes the service can be made more efficient and better for patients.
He says: "We believe that because we can get clinicians working better together to cut out unnecessary tests and unnecessary investigations and make sure people have the right care at the right time, we can provide a better quality of care while at the same time reducing the total cost."
Private providers
But there's a concern in some quarters that local hospitals will lose revenue as patients are sent to private providers for care and treatment.
According to Prof Tim Briggs, a leading orthopaedic surgeon, hospitals will be left only with emergency work and that may prove impossible to sustain.
"I think for trauma services, patients want to know that if they fall down, they've got a local hospital that they can give them the trauma help they need. And I'm concerned that that might be at risk because of the financial destabilisation of the Trusts," he says.
The NHS Support Federation argues that the rising trend of contracts being advertised means that more of the NHS budget could be drained into the hands of alternative providers.
But a government spokesman said: "It's now local doctors and nurses - not politicians - who have control of NHS budgets, because they know the needs of their patients best. Use of the private sector grew far faster under the previous government, and it now represents only 1% more of the NHS budget than in 2010."
The issue of non-NHS providers in the health service is generating more debate. What will become clear in the months ahead is whether it has a higher profile in the political debate over health before the general election.
You can hear Hugh Pym's full report on BBC Radio 4 - File on 4, 20:00 Tuesday 14 October, repeated at 17:00 Sunday 19 October.