Millions of customers vulnerable to fraud, warn banks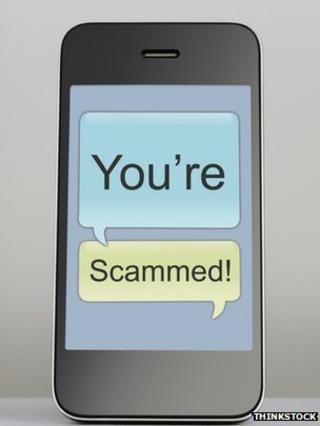 The UK's High Street banks are warning that millions of account holders are vulnerable to fraud - online or over the phone.
With help from the police, the banks have now launched a campaign to make customers more aware of the threat.
They have published a list of eight things that a bank will never ask account holders to do.
The list includes asking for a full Pin or a banking password over the phone, or via email.
"Being defrauded is a devastating experience for anyone, which is why we are launching this campaign," said Anthony Browne, the chief executive of the British Bankers Association (BBA).
"The more people know about fraud, the less likely they are to become victims," he said.
Couriers
The campaign highlights the dangers of "vishing", otherwise known as voice phishing.
The term refers to fraudsters who telephone victims, typically to say there has been a fraudulent transaction on their account.
They advise them, for security reasons, to phone the bank back.
But unknown to the victims, the fraudster stays on the line.
Believing that they are talking to their bank, victims often disclose account numbers and passwords directly to the fraudster, who uses the information to steal money from their accounts.
Sometimes the fraudster even sends a courier to the victim's house or flat, to collect the bank cards, a crime also known as courier fraud.
List
To begin with, three major UK banks are printing thousands of leaflets, to warn their customers about such scams. They list eight things a bank will never do:
Ask for your full Pin number or any online banking passwords over the phone or via email
Send someone to your home to collect cash, bank cards or anything else
Ask you to email or text personal or banking information
Send an email with a link to a page which asks you to enter your online banking login details
Ask you to authorise the transfer of funds to a new account or hand over cash
Call to advise you to buy diamonds, land or other commodities
Ask you to carry out a test transaction online
Provide banking services through any mobile apps other than the bank's official apps.