Why are tax receipts unexpectedly low?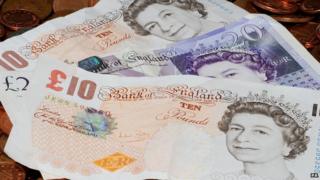 The Office for Budget Responsibility predicted in March that the government's takings from Income Tax and National Insurance in the current financial year would be £276.5bn, which is about £12bn more than it raised the previous year.
If you look at the monthly statistics so far, it turns out that between April and August this year, it collected about £112bn, which is almost exactly the same as it collected in the same period last year.
So it's no wonder that the OBR is flagging that it's likely to lower its tax forecast when it makes one at the time of the Autumn Statement in December.
The UK economy has one of the fastest growth rates in the developed world and employment is growing faster than most people were expecting, yet the income tax take is lower than expected and there is no sign of the deficit falling.
Ten years ago, the average couple without children was paying about 17% of its earnings in income tax (after tax credits have been taken into account). In the current year, that same couple is expected to pay about 14% of its earnings in income tax, according to HMRC figures.
But the OBR must have been expecting some fall in this figure when the government cut the threshold for paying income tax.
The unexpected factor, according to OBR chairman Robert Chote, is the growth in low-paid employment, due to an increase in lower-paid self-employment and more young people being in work.
The evidence for that is not immediately clear. There has been big growth in employment over the past year, but the current figures suggest that the growth has come across the board.
There has not been huge growth in average earnings, but the OBR was not predicting huge growth.
Average income for self-employed people has indeed been falling, by 22% in real terms between 2008 and 2013, but it remains a relatively small proportion of the economy.
Next month, we get some figures from the Office for National Statistics that will give more detail on earnings by job groups. Until then, we will have to take the OBR's word for it.