Former China mining head extradited to Australia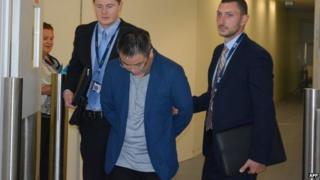 A former Chinese mining firm executive on the run from insider trading charges has been extradited to Australia.
Hui Xiao, also known as Steven Xiao, was sent to Sydney from Hong Kong on Friday, said the Australian Securities and Investments Commission.
The former head of Hanlong Mining Investment was part of takeover bids for two Australian miners in 2011 that were called off.
He was charged with 104 counts of insider trading in a Sydney court.
Each offence the former executive is facing carries a maximum penalty of 10 years in jail.
Mr Xiao was given permission to leave Australia on bail for a visit to China in November 2011 during the investigation into bids for miners Sundance Resources and Bannerman Resources. But he did not return.
In January, he was arrested in Hong Kong, where he then tried to seek asylum.
Mining 'bids'
Hanlong, the biggest shareholder in iron ore miner Sundance, had tried to buy the firm with a 1.4bn Australian dollars ($1.23bn; £762m) offer in April 2013, but called off the bid after missing funding deadlines.
It ended similar talks for a takeover of uranium explorer Bannerman for A$143m in late 2011.
In 2013, Bo Shi Zhu, another former Hanlong executive, was sentenced to jail in Australia for more than two years after he pled guilty to three counts of insider trading between 2006 and 2011.
Mr Xiao has been remanded in custody until the case adjourns on 26 November.