BAE Systems set to cut 440 management jobs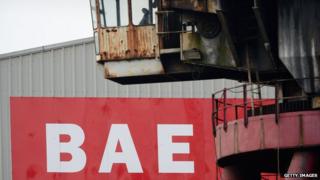 Defence giant BAE Systems is set to cut 440 management jobs across the UK.
The cuts in BAE's Military Air and Information division follow a review of the company's management structures.
More than half the job losses - 286 - will be in Lancashire, where parts for F-35 Lightning 2, Eurofighter Typhoon, Tornado and Hawk aircraft are made.
BAE said the announcement was "regrettable" but that the changes would "make a more efficient and effective business".
Jobs are also set to go at other locations, including Yorkshire, Dorset, Surrey, Lincolnshire and Norfolk.
A 45-day consultation period with staff is now expected to take place.
BAE Systems designs and manufactures defence equipment for the UK government.
The company is among the world's largest military defence contractors, making aircraft, ships and armoured vehicles.
Managing director Chris Boardman said: "We believe that by implementing changes to our management structure, we will become a more efficient and effective business and be better placed to meet the needs of current and potential customers in what is an increasingly competitive market.
"We understand that this is a time of uncertainty for our employees and we are committed to working with them and their representatives to explore ways of avoiding and mitigating potential job losses."