German exports in sharp August fall as economy falters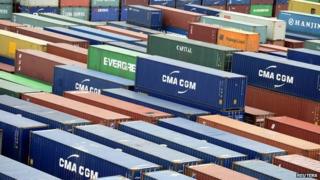 German exports fell sharply in August as later school holiday schedules and uncertainty over Ukraine combined to produce the largest monthly drop in five years.
Exports fell 5.8% compared with July, German's Federal Statistical Office reported, while imports fell 1.3%.
Its trade surplus shrank to €17.5bn (£13.8bn) as as result.
This latest news follows weak industrial output figures published earlier this week.
The fact that German summer holidays occurred in August instead of July contributed to the economic slowdown, the statistics office explained.
While exports to the European Union rose by 2%, exports to countries outside Europe dived 4.7%.
ING economist Carsten Brzeski said the slowing economies of trade partners, coupled with uncertainty over the Ukraine crisis looked like "the main drivers of the slowdown".
He added:"The economy seems to need a small miracle in September to avoid a recession."
Despite the economic news, Germany's Dax stock market was up 1.25% in mid-morning trading.